A regular vacation was not possible because of the COVID19 pandemic. Since I still wanted to leave the house, where I am also working from nowadays, I decided to just get into my car and drive to places: To see where the journey will take me, and how long it will take for me to get bored of it, or run out of the budget for this trip.
August 30, Groningen – Arnhem – Nijmegen
Heavy rain 18C – After packing all my stuff in the car, which to my surprise all fitted in the trunk, I started my journey to my first stop, which was having lunch with Matthijs Kieboom and his children in Arnhem. When I arrived at his flat, Matthijs was waiting for me with lunch on the table. While his children were watching a movie in the living room, we had a delicious lunch, together with good conversations. When it finally stopped raining, we went to a small cafe next to his old studio for coffee for us, and ice cream for the children.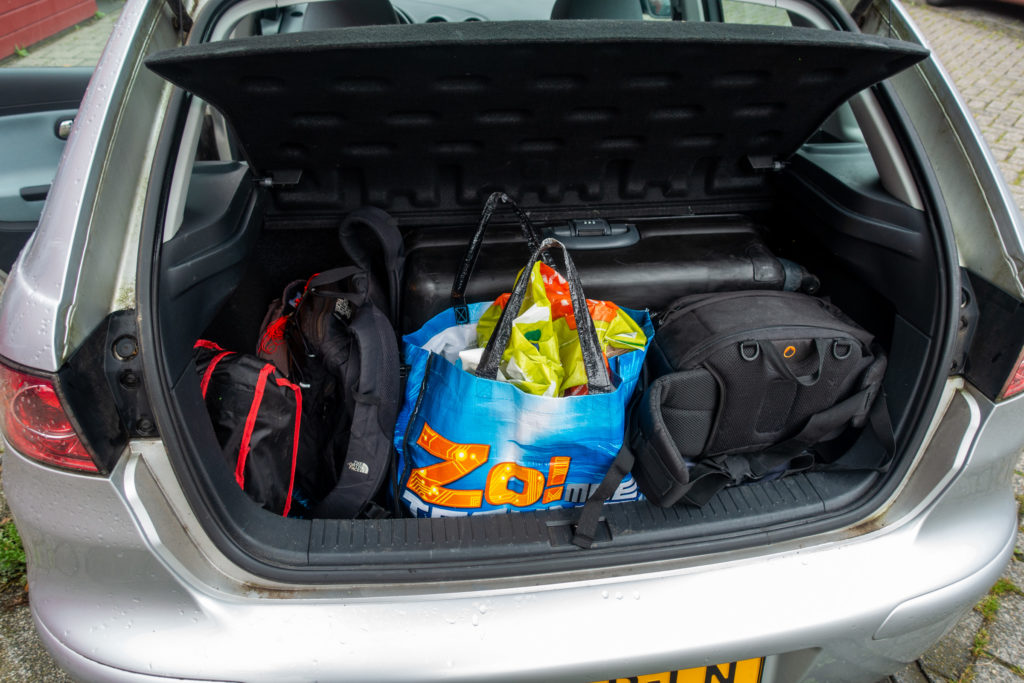 After having my Wild CD signed and receiving the vinyl Hemelrijken as a fantastic gift, I got back in my car to drive to Nijmegen. When I arrived after a short drive, the rain had returned in full force, making my soaking wet when I finally found my first hotel. Luckily the rain stopped when it was time to look for a place to eat. The hamburger together with a local beer was fine, and before returning to the hotel I looked up the 'local badge' venue in Untappd for two more beers. There was also a large group of ladies there that were surprised that they were not allowed to sit close to each other, because of the pandemic. Back in my hotel room was the Wi-Fi good enough to see the Formula 1 race.
August 31, Nijmegen – Valkenburg
Sunny with clouds 19C – Eating breakfast in the hotel was a bit unusual with the Corona measures, I had to wear a glove to collect my breakfast at the buffet. After bringing my bags to the car on my expensive parking spot, where I also had to renew my ticket, I walked through the city center including parks with old buildings and ruins. When I walked back to the car I passed 'De Hemel' brewery where I bought beers for me and Stefan.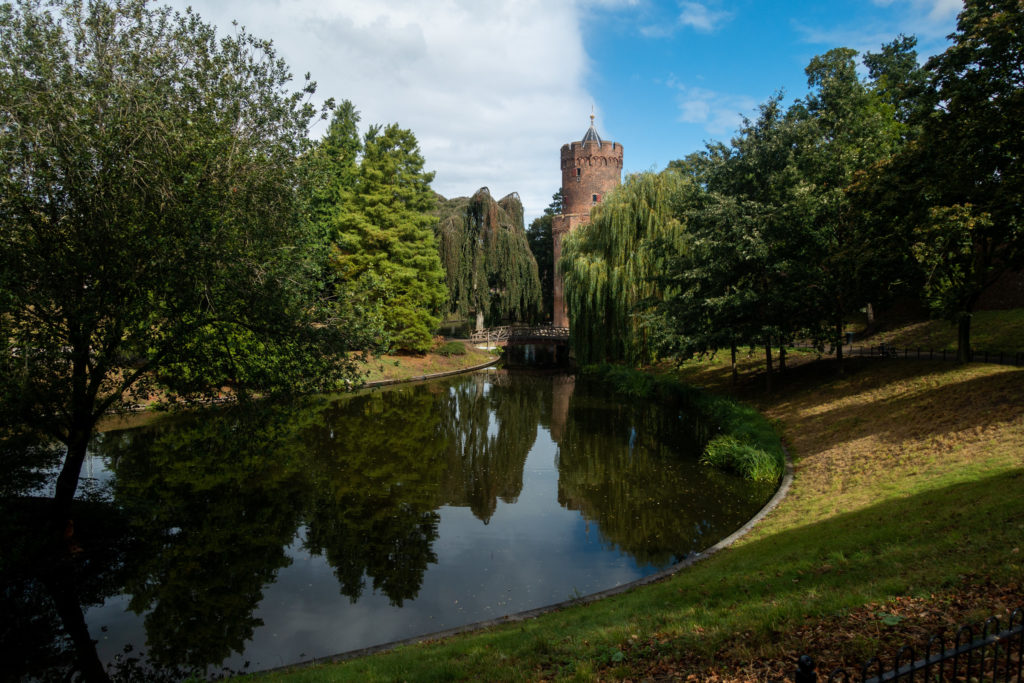 Before going to my next destination Valkenburg I wanted to see the 'Ooij Polder' first, which is a nature area close to Nijmegen next to the Waal river. After driving over the dike, I did a small trail to the river shore. Then it was time to start a beautiful drive to Valkenburg while avoiding the highways, which would be the standard way of me going from one place to another during this vacation. These parts of the Netherlands are not familiar to me, so it was a quite wonderful experience for me.
When I arrived at my hotel in Valkenburg I got a phone call from my brother. He was in Cologne, Germany, for his new job and was only one hour away from me, which was a good reason to meet here in Valkenburg in the tourist area for dinner! Since my brother had to leave early for his job the next day, I spend the rest of the evening relaxing in my hotel.
September 1, Valkenburg and Maastricht
Cloudy 18C – The breakfast in the hotel was a nice buffet, but sadly, the coffee was not that great. I started the day by looking for a short hiking trail near the hotel in 'Ravensbos'. It was a bit hard to find a place to park my car and that is why I drove a bit further to park it in the nearby village. When I started the trail I saw the official parking spot, which was a bit hidden in the woods. It was a nice trail in the forest, including a beautiful small pond in the middle of the trees.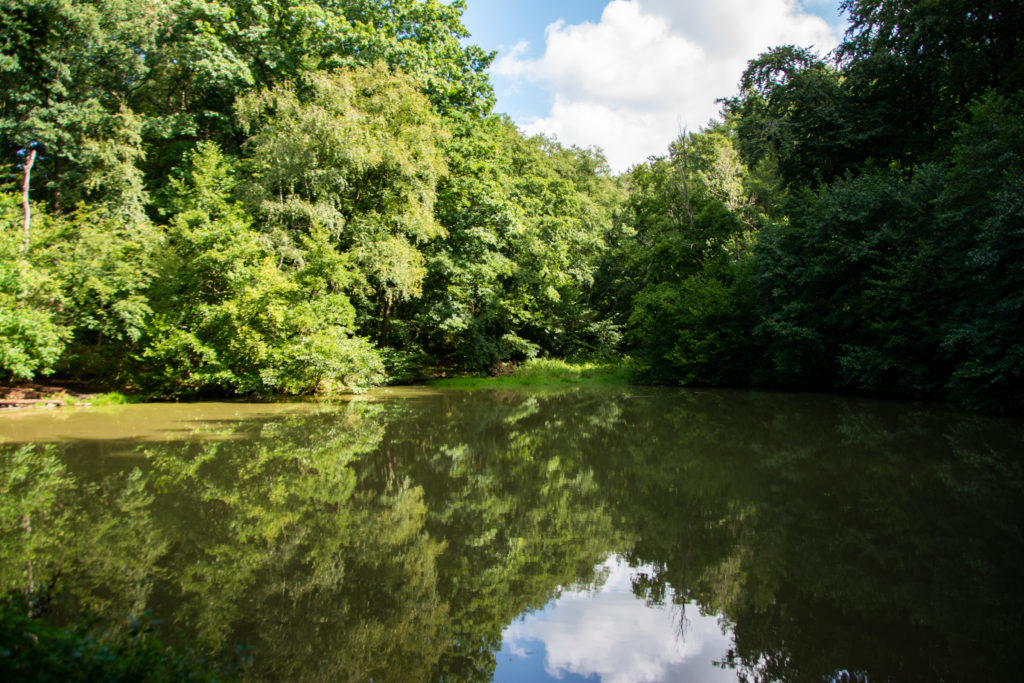 After the hike, I drove to the border triangle of Netherlands, Germany and Belgium, which is a location I have not been since 1985. It was weird to see all the masks on the Belgium part and none at the Dutch. Back in the hotel I did a quick freshen up before going to the train station to visit Maastricht. It was the first time this holiday I had to wear a mask as well, since it was mandatory in public transport in the Netherlands back then. Unsurprisingly not everyone on the train was complying with that rule.
When I arrived in Maastricht I visited the big sight-seeing points that TripAdvisor had suggested, since it is also a city I had not visited in like two decades. I went to sites like 'Onze Lieve Vrouw Sterre der Zee Basiliek', 'De Bisschopsmolen', 'Vrijthof' and many more. I ended up at the main market where I sat down for a couple of craft beers and a salad (with fish). I arrived quite early back in the hotel, where I spend my time on the laptop doing stuff, but also talked to Stefan and Arek, via video chat, about meeting each other in Germany.
September 2, Valkenburg – The Ardennes
Sun with clouds 18C – The breakfast in the hotel had some decent coffee this time, which I enjoyed. After packing up my things, I left the Netherlands by driving the scenic route to Ninglinspo, which is apparently the only flowing creek in the Ardennes. The trail was adventurous, involving some climbing. It was also interesting to notice that masks were mandatory. Being in the open air with no enforcement around, most of them took them off. I still wore mine with the nose in the open to be able to cover it when people wanted to pass me.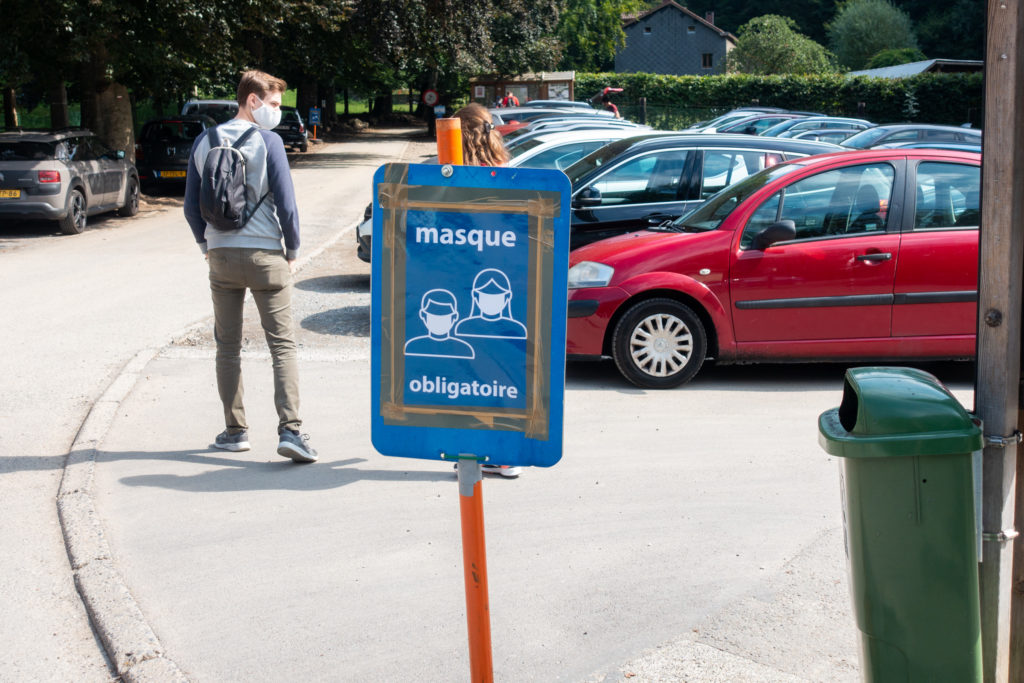 After almost two hours I returned to my car and started to continue the scenic route to my hotel. I loved the countryside and all the small roads while driving. When I arrived at my destination, I was quite surprised that my stay for the next two nights was an abandoned restaurant. There was a fridge and a microwave available for me to use, so I did some groceries and spent the rest of the evening eating microwave food in the common room and relaxing on the laptop in my own room with some Belgian beers which I had bought in the store.
September 3 – The Ardennes
Cloudy 20C – This "hotel" did not have free breakfast so I made some sandwiches of things I had with me together with instant coffee. I didn't really make big plans for today, I just looked on TripAdvisor for some highlights and plotted a route using them as points in my TomTom app. The first point I drove to was 'Point de Vue sur Frahan' with a stunning view over a valley with a small river and a village down below.
When I wanted to leave the place, my TomTom app started to act up. I was not able to drive to other points, because it was not able to calculate any routes. Frustrated as I was, I drove to the next point 'Park Furfooz' using Google Maps. It is supposed to be a highlight, with beautiful views, rock formations and caves, but I was a bit confused about where I should walk to, so I missed it all, and since there was no service on my phone I could not find out how and why. I just walked a bit over a gravel road to a restaurant at the end, where young people were kayaking, and walked back again. I think I should return one day to see all the beauty I have missed.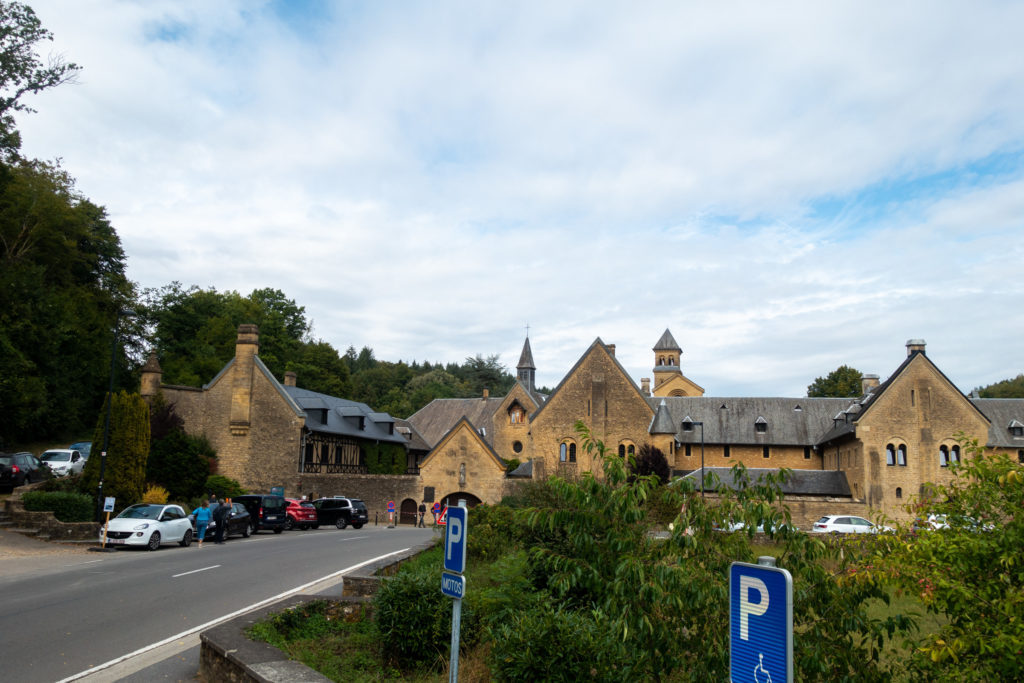 After successfully resetting my TomTom I took the highway with the Orval Abbey as the destination to save some time. It is one of the monasteries where they brew their own beer. Apparently the monastery is quite new, since it was rebuilt in the early 20th century, but the 11th-century old ruins were still there as well. I bought a ticket and walked with my face mask the route they had laid out. It was not possible to free roam during the pandemic. It was quite funny to see the brewing process from bottles to the separate ingredients of malt, water and hops, because it was apparently too difficult to lay out the route in the right order. After buying beers in the gift shop, it was time to take the scenic route back to my room, where I spend the evening relaxing on the laptop, drinking some beers and eating microwaved spaghetti.
September 4, The Ardennes – Stuttgart
Sunny 29C – After eating some sandwiches I prepared myself, I left the abandoned restaurant, and Belgium as well, to meet my friends Arek and Stefan in Stuttgart, Germany. During the first part of the drive I took the scenic route and drove through Luxembourg where I could fill up my gas tank with extremely cheap gas. When I crossed the border in Germany I had a mission to find the 'umweltplakette', which is a sticker I had to put on the front window of my car, as proof that my car is not a horrible monster to the environment. Without it, I was not allowed to park at our hotel. First I went to a large Volkswagen garage in Trier, the desk clerk could not help me there, but luckily there was a TÜV office around the corner, where they could help me out.
After looking at the time, I came to the conclusion that I had to take the highways from there. I have been quite accustomed to them being very busy with a lot of road work, but I did not take into account that a car with only one driver and a Dutch license plate is a magnet for the German police. After being pulled over by the regular German police, who were looking everywhere in my car for drugs, where they had to take out all my luggage. I had to go through the process again two parking lots further by the police in an anonymous car. This all took place within ten minutes.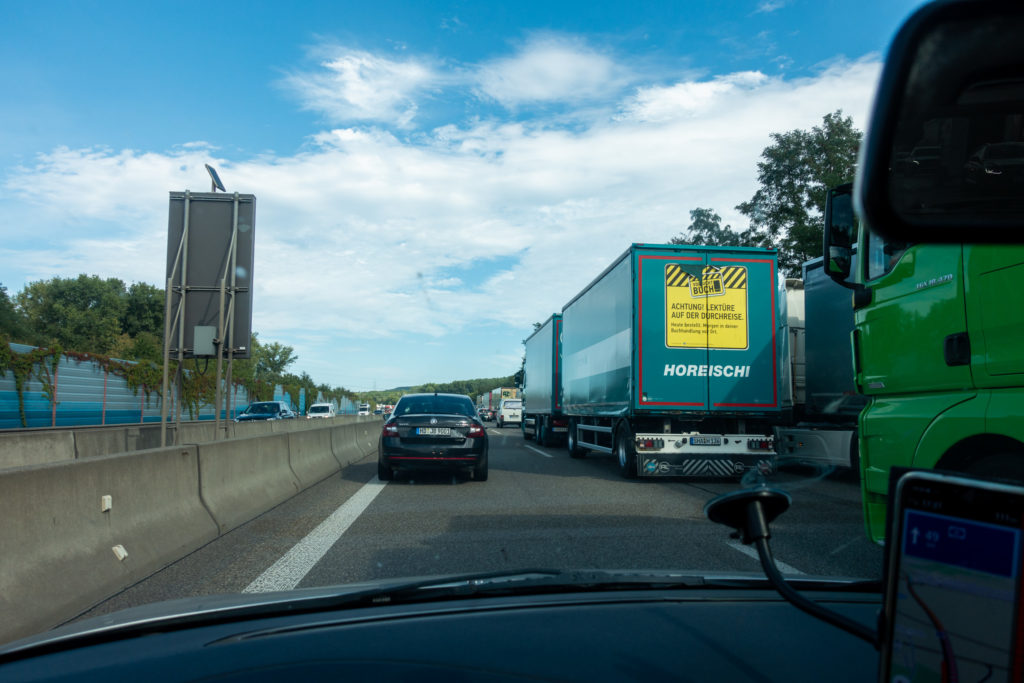 After a tiresome last part of this trip I finally arrived in Stuttgart where Arek and Stefan were waiting for me. After checking in the hotel, we left by public transport to the city center for dinner outside, some beers and good conversations.
September 5, Stuttgart
Sunny 20C – The day started with an amazing breakfast in the hotel. Before heading out we relaxed a bit in the courtyard using their Wi-Fi. Arek had prepared a small round trip with some spots to visit, which he programmed in the navigation of Stefan's car. We stopped at a park in the city with a pond and a church as our first stop. The second stop was Schloss Solitude, a castle on a hill with a stunning view of the city and with many wedding couples. The last stop of our tour was a small forest where I found a geocache, which I had not done since my holiday last year.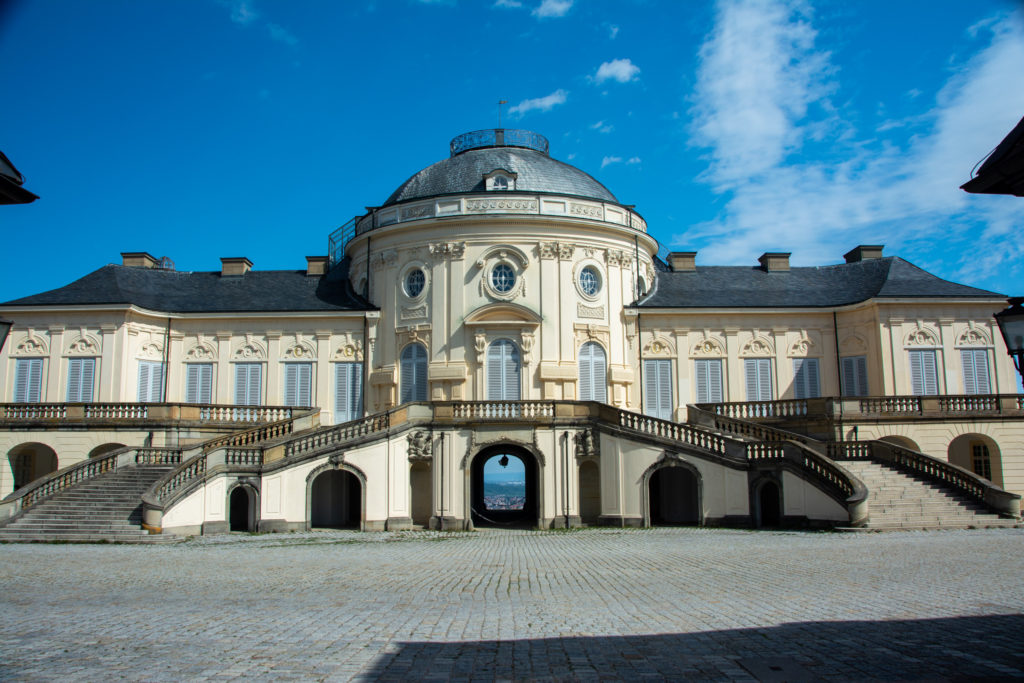 Back in the hotel we made preparations for spending the rest of the day in the city center. There we went for a late lunch first with some Spanish tapas. Afterwards we found a beer garden in a courtyard. We have been sitting outside during our visit in Stuttgart, but the wind started to make it a bit chilly, a good moment for us to find a restaurant with traditional German food where we could sit inside. The food was good and not expensive, but I had some doubts about their corona rule implementation, since the rooms were small with lots of people inside. We ended the evening at a craft beer bar, which we had found on Untappd to test their own brewed beers.
September 6, Stuttgart – Black Forest
Clouds with Sun 18C – After another delicious German breakfast, it was time to pack our things and say our goodbyes. Arek and Stefan were heading to the Munich area while my destination was at the southern end of the German Back Forest. As usual for this vacation, I drove the scenic route through the Black Forest, which is apparently a paradise for motorcycles. I was a bit of two minds about them since they were fast and noisy in the beautiful surroundings on these amazing curvy roads in the hills. While I wanted to orient myself at a parking lot, I, unfortunately, had a small collision with a German car who backed his car right into mine, while I was standing still behind him. It was just a soft touch, and I luckily had no damage because of my plastic grill.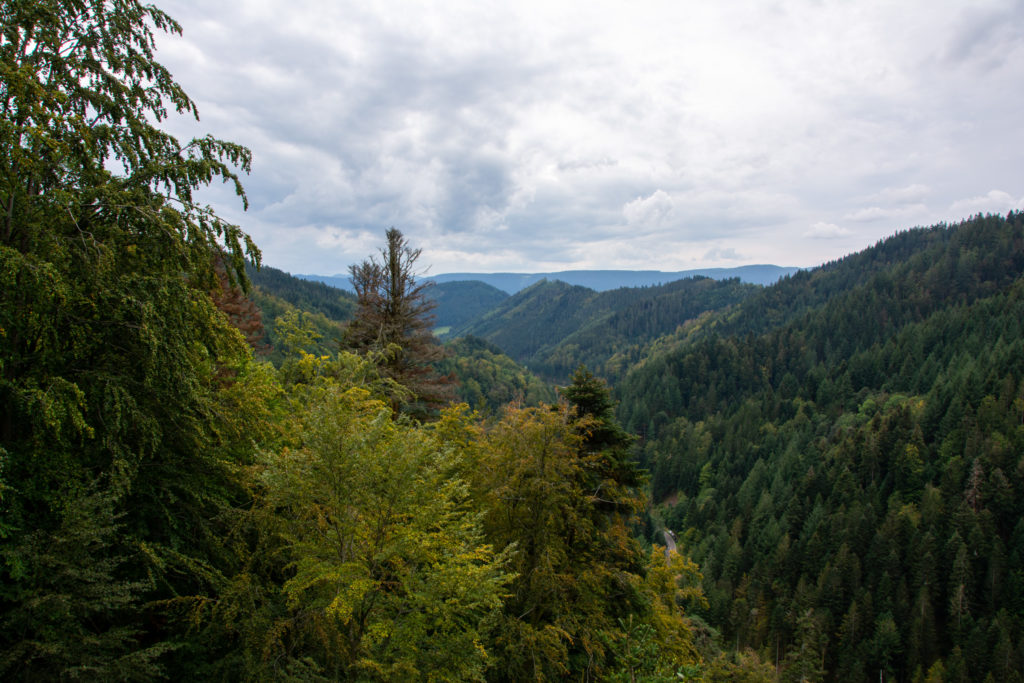 On my program for the day I only had one real stop, which was the Allerheiligen Ruins and Falls. The falls were beautiful, but also extremely crowded, and with the narrow walkways and no masks in sight, it was not the best place to be. Especially when you can smell the sweat of the people passing you.
I continued my route to my hotel in Schönwald im Schwarzwald, which was a small village in a gorgeous environment in the hills. After talking to a fellow Dutch guest and settling in my extremely old fashioned room with brown tiles in the toilet and shower, I went for a small walk through the village to find something to eat, where I ended up in a friendly and cheap restaurant for a beer and a pizza. The rest of the evening I relaxed in my room with my laptop, including watching the F1 race.
September 7, Black Forest – Hasslock
Sunny 22C – After breakfast with good coffee, a gorgeous view over the valley and a conversation with the owner about the game Hearthstone, I left the village to visit the nearby Triberg Falls, which are one of the highlights in the Black Forest. It was a Monday and still early in the morning, so I could find a good parking spot nearby. Luckily I had enough coins for the parking meter. The falls were nice, but with all the people and the paved roads, the magic was a bit gone for me. Afterwards it was time for the scenic route through the valley, including beautiful villages to Aussichtsplattform Ellbachseeblick. The walk to it was pleasant, with hints to the winter sports season with lights and tubes for making fake snow.
The next stop was the Lotharpfad, which was a small trail with boardwalks through the forest, at the halfway point there was a platform with a stunning view over the valley. This was also the last stop for me that day, and I had a long drive ahead of me. The first part of the route included amazing roads through the hills with wonderful villages in between. Near Karlsruhe the surroundings became more industrial. This was a good reason for me to take the highway for a bit towards my hotel. Halfway there I decided to go off the highway again for the last part.
The hotel itself was quite big and also in an industrial area. It took me a while to find a restaurant to eat: Many were closed or was a large Chinese buffet restaurant. Luckily I found a Greek restaurant within walking distance where I was the first and only one who had checked in a beer in Untappd on their location! Back at the hotel, I relaxed a bit in my room on my laptop, and since the room had a fridge, I drank a German beer that Arek and Stefan had given me in Stuttgart.
September 8, Hassloch – Eifel
Sunny 20C – After eating breakfast, with all the items I had to order the day before, it was time to start my scenic drive to my first stop. The road to it was gorgeous through a forest. The stop itself was even beyond that. Karlstalschlucht is a small gorge with a creek, but to me it was a small paradise on earth. Not many people were there to enjoy the tranquility. Most of them that were there were photographers who also enjoyed the scenery. The creek itself was full of fallen trees, creating little dams, resulting in playful sounds and visuals in the water. I had a hard time leaving to start the long part of my drive to the Eifel area. After three hours I finally arrived at the Drei Mühlen Falls, which are quite unique, because the falls are covered with moss. The nearby ruins were a bit disappointing though, with only one wall left standing.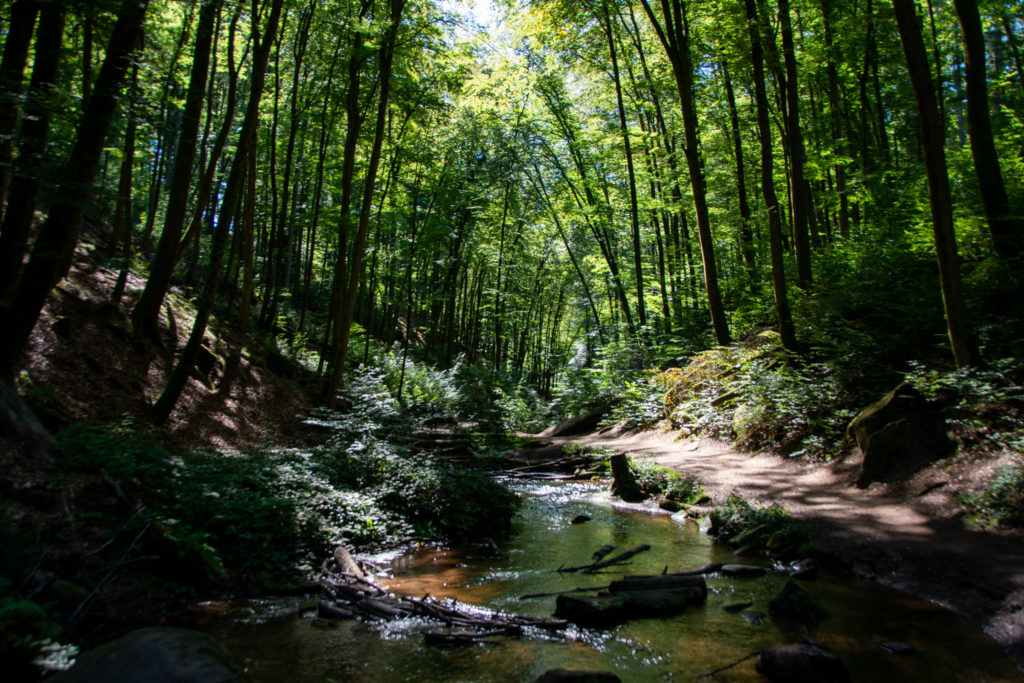 From there it was only a short drive to the hotel, in a small village, which was only approachable using narrow roads, where you could not pass each other easily. The hotel was very nice and the host very friendly, but to get something to eat I had to take my car to the nearby village Adenau. After finding a parking spot and trying to find a place to eat, I ended up at an Italian restaurant. Back in my hotel room, I decided to work on Soundtrack World, while enjoying the second beer that I got from Arek and Stefan.
September 9 – Eifel
Sunny with clouds 20C – With really no plans for today, I drove to Eifel National Park hoping for some good hikes. After going to the visitor center I was not convinced that I would succeed. I drove to the Kermeter parking lot for a walk to a scenic point over the water. I could not find a walking trail so I walked the way down on a paved road. When I was almost at the destination I found the hiking path. The destination itself was the Urftseestaumauer, a dam with a restaurant, which is a good excuse for me to sit down, drink a beer and to enjoy the view. After walking over the dam, I returned back to the car using the real hiking path. It was a bit steep but so much better. Eifel is really meant for bikes and busses, resulting in my hike being completely on my own in the forest.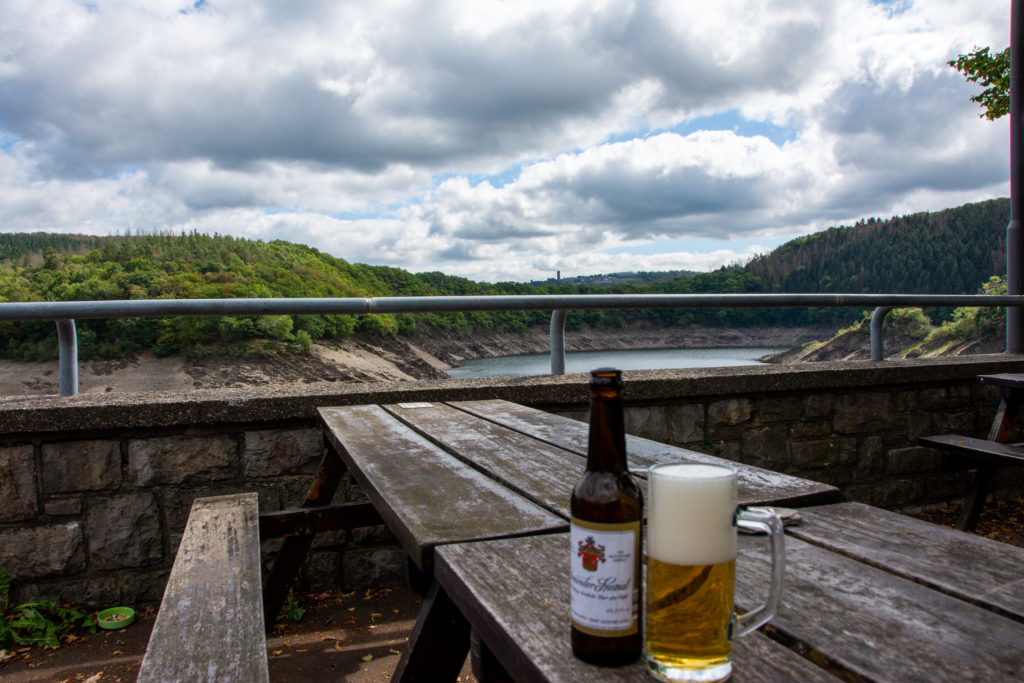 Almost at the parking lot, I found another family trail with boardwalks and a lot of signs. They want to make that part of the park an ancient forest by letting nature do its thing and the signs told what certain parts will become, which is quite funny to me since I have been in quite some ancient forests in the world and have seen that in action already.
Before I took the scenic route back to the hotel, I stopped by an Abbey in the park first. It was a beautiful white building but after taking some photos, it was time for me to leave. I set the destination to a random restaurant near Adenau where I could park my car, since I was staying in the same hotel with no place to eat nearby. I did not know that it was located next to the Nurburgring! It is located near one of the bridges where the track goes over. At the top of some stairs, you could look over the track and see some random race cars trying to improve their lap times. The restaurant I had picked out had a counter where I could order a Schnitzel and an alcohol-free beer. There were also some expensive race cars parked there for me to look at. When I returned to the hotel, I spent the evening relaxing and drinking a Polish (and last) beer that Arek and Stefan gave me.
September 10 – Eifel – Groningen
Sunny 20C – After breakfast, I got into my car and unticked the "avoid highways" option and started my drive back home. The first half an hour was still on a beautiful country road before I reached the highway. On the highway, I just cruised back home with some podcasts on my radio. I arrived back in the Netherlands after two quick stops and visited my parents who live on the route back home. When I arrived in the afternoon at my house, my cats were waiting for me.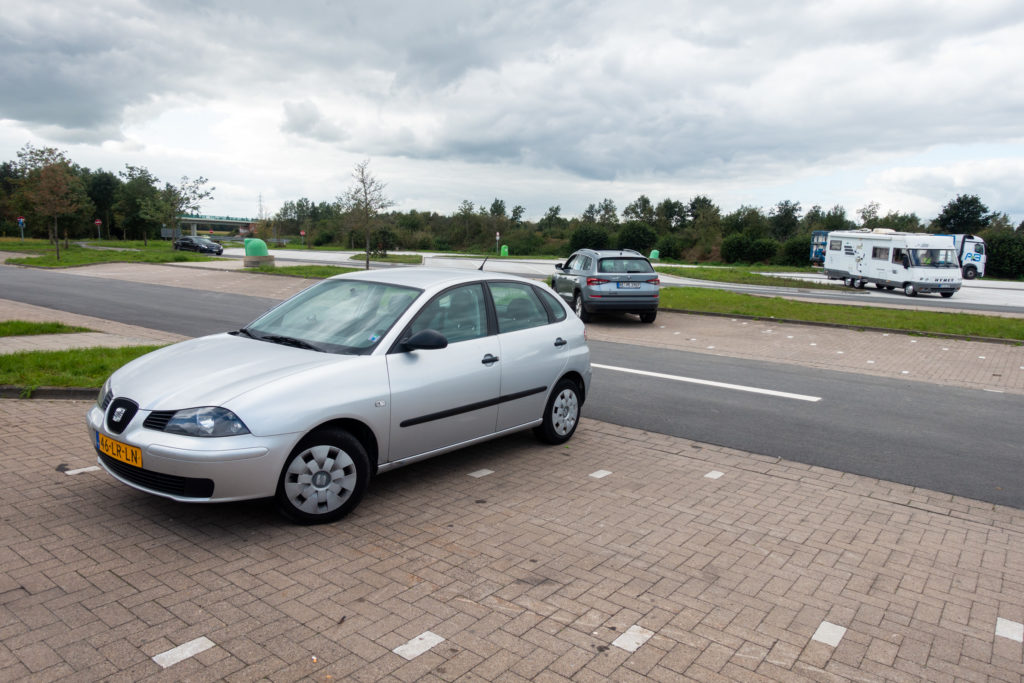 Conclusion
It was a bizarre holiday to go on an adventure all by myself. Having to wear a mask made it even stranger. There were some times I felt a bit lonely, especially if the internet was bad, but overall I had a wonderful time exploring all these parts. Before this holiday I always felt uncomfortable driving in a strange country, but this holiday really helped me to get over that. Using a car that I have owned for more than a decade really helped, I drove around 1600 km during this trip. I also want to thank all the people that I met along the way: Matthijs, my brother Bert, Arek and Stefan. Just to talk with people in real life made this trip by myself manageable. Hopefully, this pandemic will end soon, so we can all get on holiday we like to do, but with that said, I had a good holiday resulting in fond memories.