Sunday, September 15
Cloudy/Rain 15C – After a decent night of sleep in a hotel in Leiden, Stefan and I left for the airport. When we finished breakfast in the new lounge at Schiphol airport and a relaxing flight, we arrived at our destination Toronto, Canada, while it was pouring rain outside. The forecast had promised us a sunny day but was not able to deliver. After collecting the car, an amazing Dodge Durango, we drove for two hours to Wasaga Beach to Stefan's uncle and aunt Anton and Trees Vriends. Their son Rene also joined us, and we had a lovely fish and chips meal with pleasant conversations. I needed coffee to stay awake for the last couple of hours, because of the jet lag, before heading to bed.
Monday, September 16
Cloudy/Rain 14-19C – We started the day with a delicious breakfast of toast, bacon and eggs. On the program were the Blue Mountains Scenic Caves, which was a short drive from Wasaga Beach. When we arrived at the parking lot, it started to rain. We did the Scenic Cave trail first, where we walked an adventurous trail through small chasms while it was still raining. There were some lookout points, but with the rain clouds, not much could be seen. There was also a zipline, where two people can use simultaneously, which was, as expected, also closed.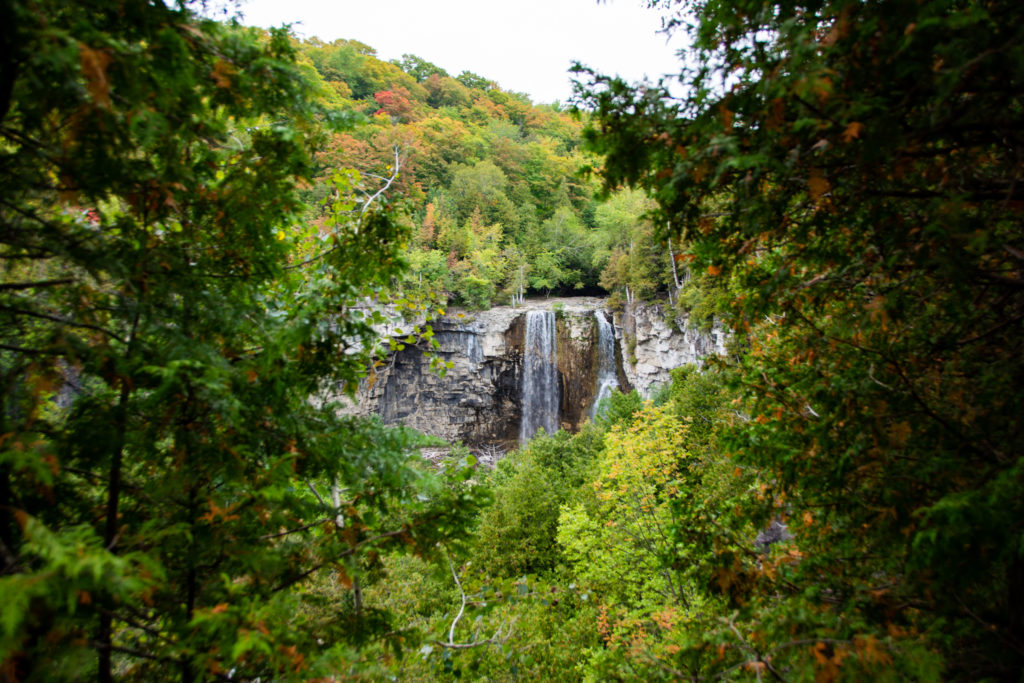 After drinking a soda (sadly no beer was sold there) we walked to a suspension bridge over a valley that was built there for now real reason, just because someone just wanted to have one. After walking back and forth over the bridge, we went back into our car and drove to Eugenia Falls, which we found on Maps.me. We were not disappointed, since it was a beautiful waterfall. Afterwards it was time to drive back to Wasaga Beach, where Anton (the uncle not me) had prepared a delicious barbecue for us. After some beers and good conversations, it was time to go to bed.
Tuesday, September 17
Sunny 20C – After another delicious breakfast, it was time to leave Wasaga Beach. Today's plan was to drive touristically to our cottage near Algonquin Provincial Park. Halfway through the trip we made a stop at Hardy Lake Provincial Park. We started our walk until I found out that I was missing my credit card, and we had to walk back with our eyes on the ground until we came to our car where it was lying next to the door. Relieved, we decided to walk the same trail the other way around. It was beautiful, alongside the lake with squirrels everywhere, and hardly any people around.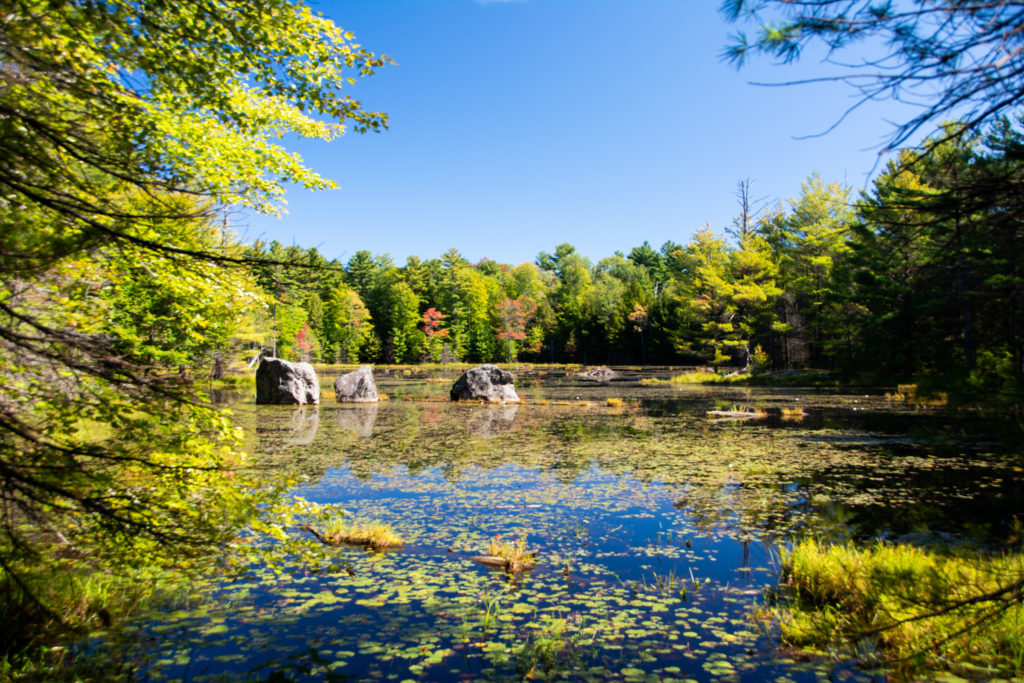 When we arrived back at the car, we drove to a so-called Beer Store, since buying alcohol is government controlled in Ontario. After getting some regular groceries as well, we arrived at our cottage, which looked very cozy with sharing a private beach with canoes with other cottages, but also had extremely bad Wi-Fi. We finished the day by meeting Allison Tucker, who lives close by, for a fun dinner in Huntsville.
Wednesday, September 18
Sunny 21C – We started the day with breakfast we had bought in the store the previous day. At half-past ten, Allison arrived and together we went to visit Algonquin Provincial Park. Allison knows the park very well and she took us to a couple of beautiful trails in the park. First, we did the Whiskey Rapids Trail, which is a trail alongside a creek, which is supposed to be wild, but at this time of year, it was calm and was even low on water. The next trail was to a lookout, with a beautiful view over the valley. According to Allison, the place would be completely packed with cars and people who want to see the autumn colors, creating complete chaos. It was still a bit too early for that in the season, so we had a nice relaxing walk instead and could park our car right next to the entrance of the trail to the lookout.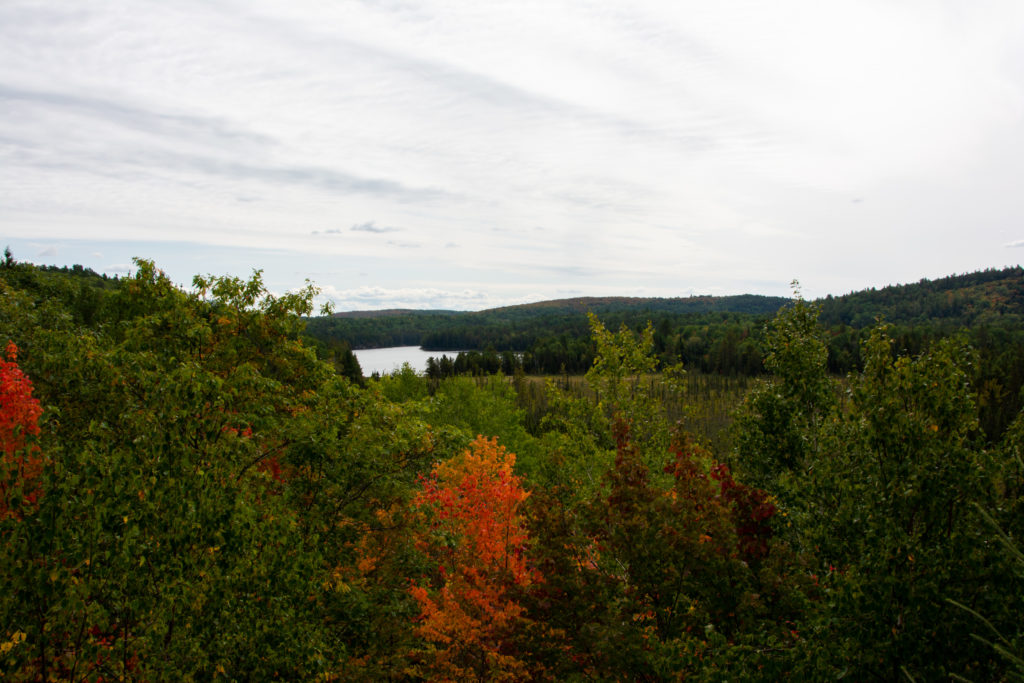 After a stop at the visitor center for some Wi-Fi, drinks and an expedition about stuffed animals, we continued doing trails. The next one was an easy boardwalk trail called the Spruce Bog Boardwalk. While walking the Big Pines Trail, Allison and I were searching for a GeoCache that we found. Fun fact about the cache was that the owner's name was Caliburn as well! For the fifth and final walk, we did the Two Rivers trail, another amazing walk through nature where the water was also a bit too low. Before we brought Allison back to her car and said our goodbyes, we had another great dinner together in a bar alongside the road.
Thursday, September 19
Sunny, 20C – After our breakfast in the cottage, we left the park to start our journey to Montreal using the scenic route. Since the Wi-Fi was so bad at the cottage, we went to the visitor center in the park again to catch up on the internet, since it was on our route anyway. We only made a stop near a lake for a quick bio break, and after driving into the Quebec state, we had a quick pizza in a fast food restaurant with a very friendly guy behind the counter.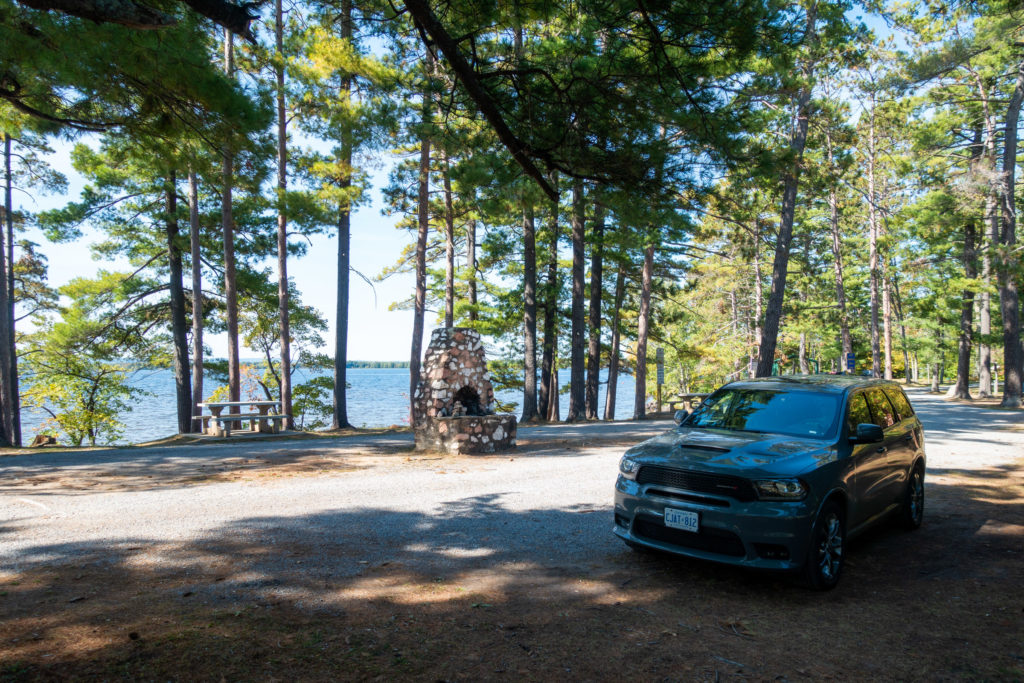 It was time for me to take the wheel again, and I still was not quite used to the car. I made two sudden stops, because I wanted to use a clutch that was not there, and I hit the brake instead. When we finally arrived at our apartment, we had another problem to solve: our code for the key lock did not work. Luckily the owners responded pretty quickly with a new code and we could enter our huge apartment where we all had our own private bedrooms. After some catching up on the internet and switching parking spots with the downstairs neighbors who were moving cross-country, it was time to pick up Arek from the airport in Montreal. After a beer and some small talk, it was time to call it a day.
Friday, September 20
Sunny 22C – After breakfast Stefan and Arek went for some groceries, while I stayed behind to work on some Soundtrack World stuff. When they returned, we got in our car and drove near our friend Sandro's place, who we have met at the film music festival in Krakow, Poland. We walked for a bit to find a restaurant for lunch, where they did not speak any English. With our stomachs filled, we walked a bit further to the river. There was not much else to do there, so we decided to take the subway to Mont Royale, which is a hill in the middle of the city. There we could walk in a forest in the middle of a big city, which is quite an experience, and the view on the top over the city was amazing. While going down, Sandro guided us by messages to a bus that would take us near his place. When we got out of the bus and walked to his apartment, Sandro greeted us halfway.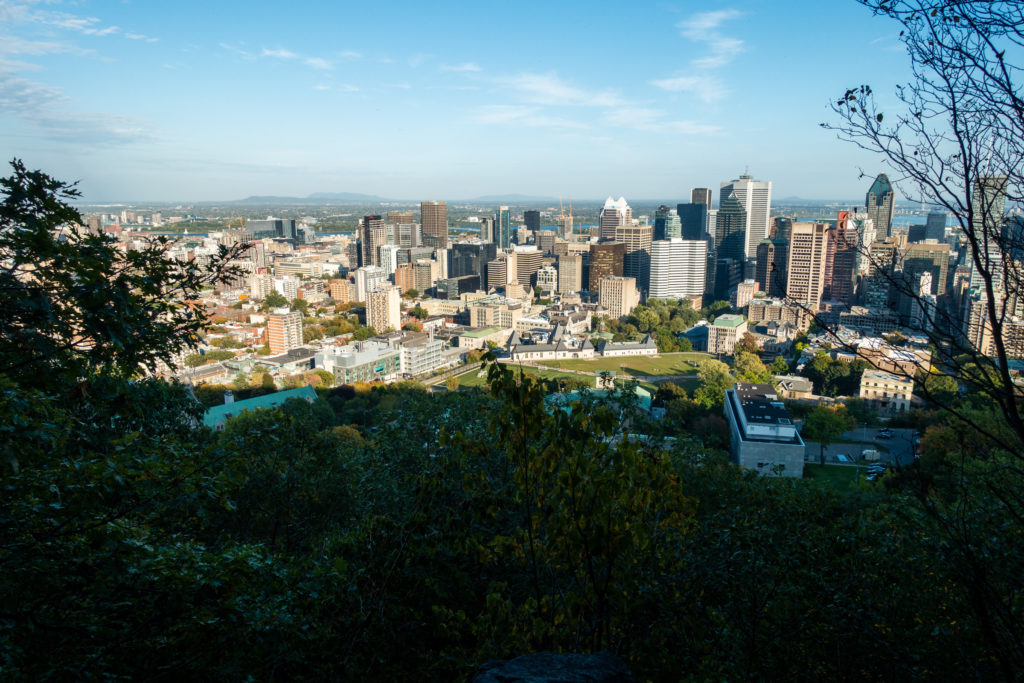 Sandro's apartment was quite a marvelous place to be. Each wall was covered in old movie posters, and the furniture was very minimalistic. He told us that he was able to pack all his belongings in about 40 minutes. We had a delicious meal and very pleasant and interesting talks. For a collaboration project between the festival in Krakow and one in Montreal, Sandro had received a huge flag from the Krakow Film Music Festival. Of course, we needed to take a picture with it.
(Sadly we have lost Sandro in the meantime. He passed away while he was only 49 years old. He will be missed.)
Saturday, September 21
Sunny 26C – The morning and early afternoon were spent eating breakfast and searching for an interesting route and places to sleep for the next three days. After a quick stop at the grocery store for me and Stefan, we took the car to Vaudreuil-Dorion to meet up with Hilary and Jean-Michel in their new house, who are long time friends we met on the internet.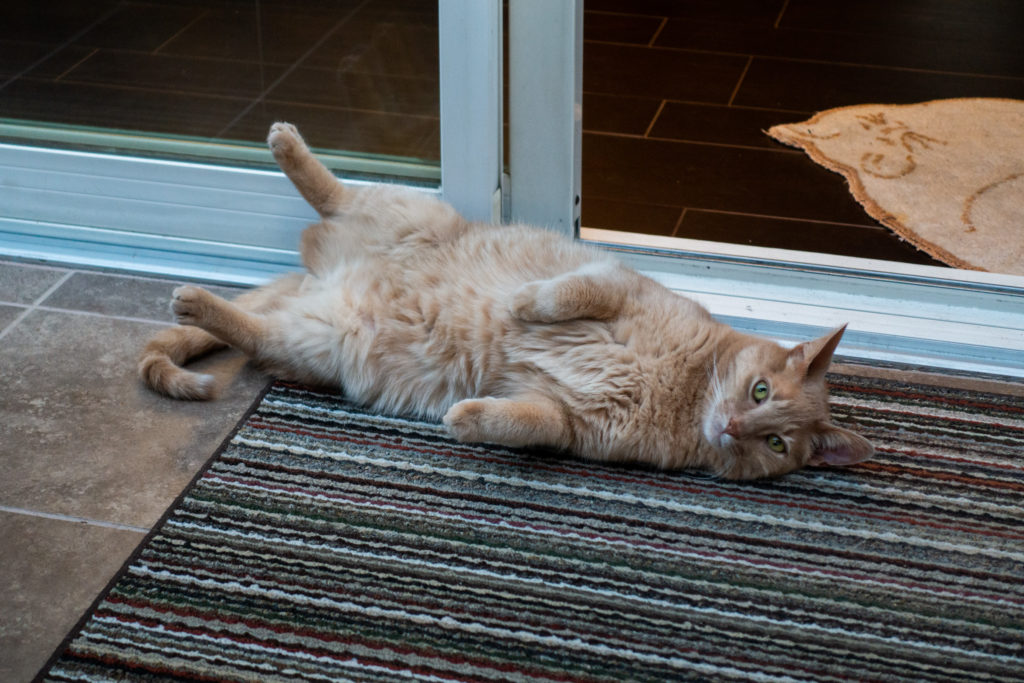 We started with lovely conversations while eating bread, cheese and drinking beer in the kitchen. We ate delicious homemade burgers with delivered poutine in their solarium, where we could also pet their cat Enzo. After a lovely whiskey, we ended the evening by them showing off their amazing media room in the basement. It is always a pleasure to meet internet friends in real life. Before going to bed in our apartment we drank a quick beer, since Stefan was the designated driver and could not drink during the day.
Sunday, September 22
Cloudy 25C (Rain 19C) – It was time to start our first long drive with the three of us. We drove touristically to Riviere-de-Loup. It was a relaxing ride through beautiful landscapes and villages. It is very interesting to see how Canadians work and live. In one village there was an Autumn festival going on and everyone was sitting outside facing the street, probably waiting for some kind of parade. After two stops with lookouts over the large river, we finally arrived at our motel which had three double beds. The motel was sharing space with the St. Hubert chicken restaurant, so for us a good excuse to have dinner there.
Monday, September 23
Rainy 19C – We drank coffee in the hotel, and I also had some slices of bread, since this motel did not have any breakfast service. We also booked our first Airbnb in Dartmouth, near Halifax. Then it was time to start the second part of our long trip to Nova Scotia. We stopped at a Dairy Queen for some fast food, since there were no good alternatives for lunch in the town we were in. We did some little stops here and there until we arrived in Fredericton, where we had to search for a restaurant until we found one that was quite fancy. It was a good call to eat in that town, because our one-star motel was in the middle of nowhere. In our warm room with a lot of killed mosquitoes, we drank some beers before we went to bed.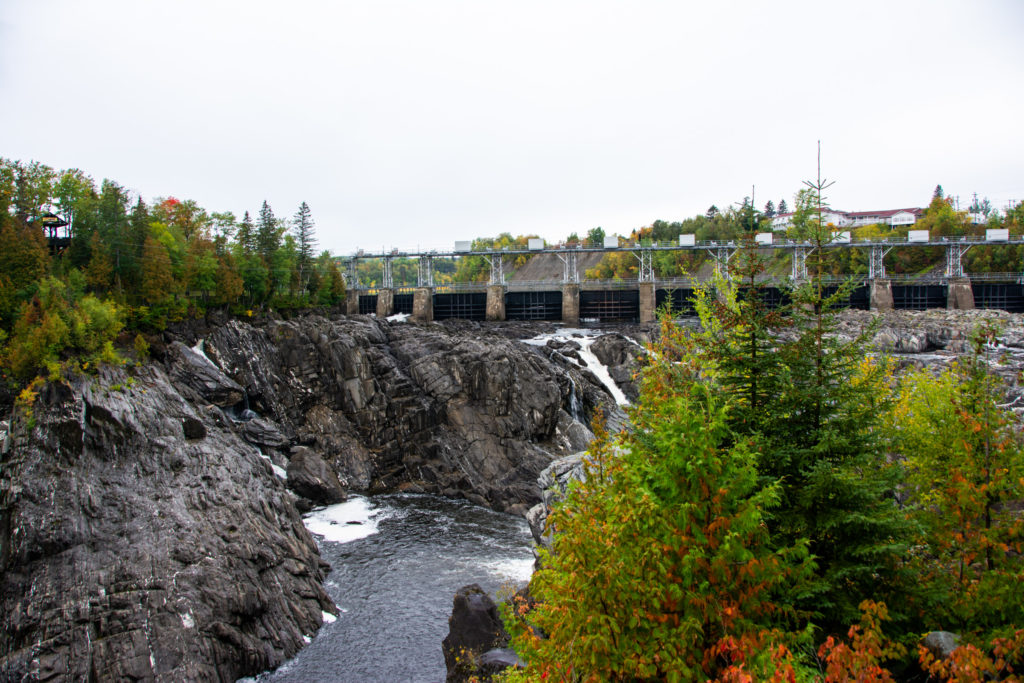 Tuesday, September 24
Moist 16C – Our first mission of the day was to find breakfast since our motel had none. I just picked a random restaurant with the name Smitty's, which is apparently a chain with an excellent breakfast. With our bellies full, we took off to sniff some nature in Fundy National Park. The first thing we did was stopping at Wolfy and Bennett Lake for beautiful views. Our first trail was to the Dickson Falls, a beautiful nature path through a chasm together with the last remnants of water from the falls since it is September. Our second trail was to Point Wolfe Beach where the endpoint was a big rocky beach where the water was far away because of the low tide.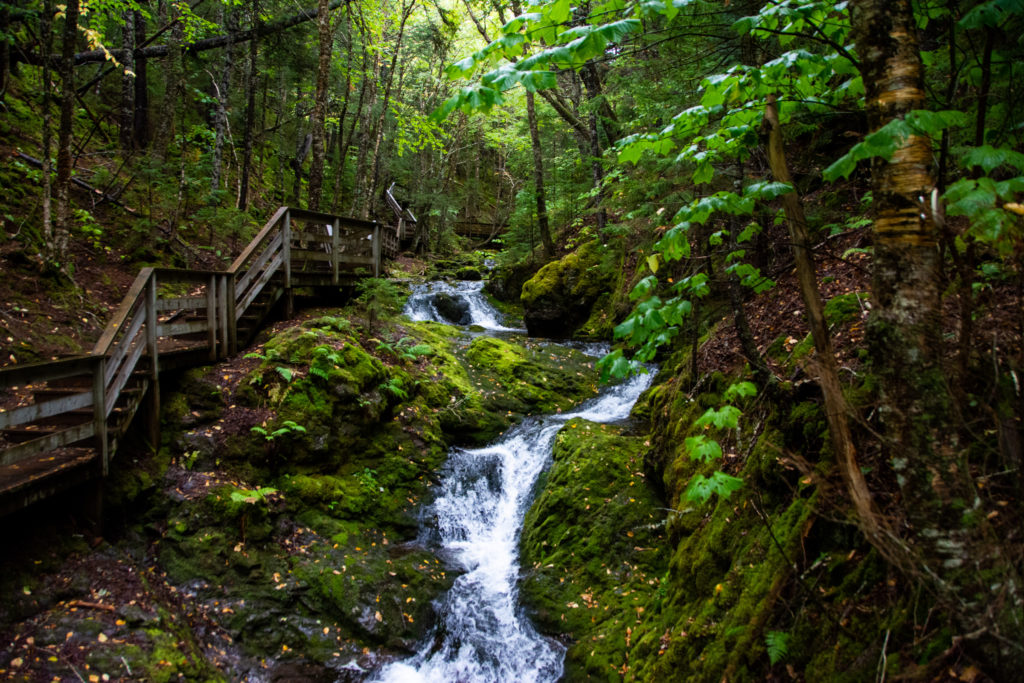 Our last trail, Caribou Plain, was supposed to be an easy boardwalk trail, but there were not many boardwalks to be found and when there was, they were quite slippery, resulting in Stefan falling. We arrived pretty early in our motel, so we had time for some shopping. We bought groceries in the main store, but we had to go to the state shop next door for our beers, which could be found in one big (and chilly) cool room. We drank some of those beers back in our motel, where we also ate a nice dinner in their own restaurant.
Wednesday, September 25
Rainy 12C (Cloudy 16C) – After a decent breakfast in the same restaurant where we had dinner, we headed out in the direction of Fundy Park, but this time to drive through it to continue our journey, not to do trails. There was one lookout though we could do it this time, which we could not enjoy because of the weather the day before. Our first planned stop was Cape Enrage, with cliffs, beautiful views and an old lighthouse. There were also metal stairs going down to the rocky beach that Stefan and I walked down to, while Arek stayed behind to have a chat with a Polish chef in their restaurant.
Our next stop Hopewell Rocks was quite a tourist trap. The location consisted of a couple of trails along the cliffs, where are at one place you could go down and walk on the beach during low tide and look at the beautiful ocean shaped rocks. Taking pictures was challenging, because of the big groups of tourists were occupying the beach.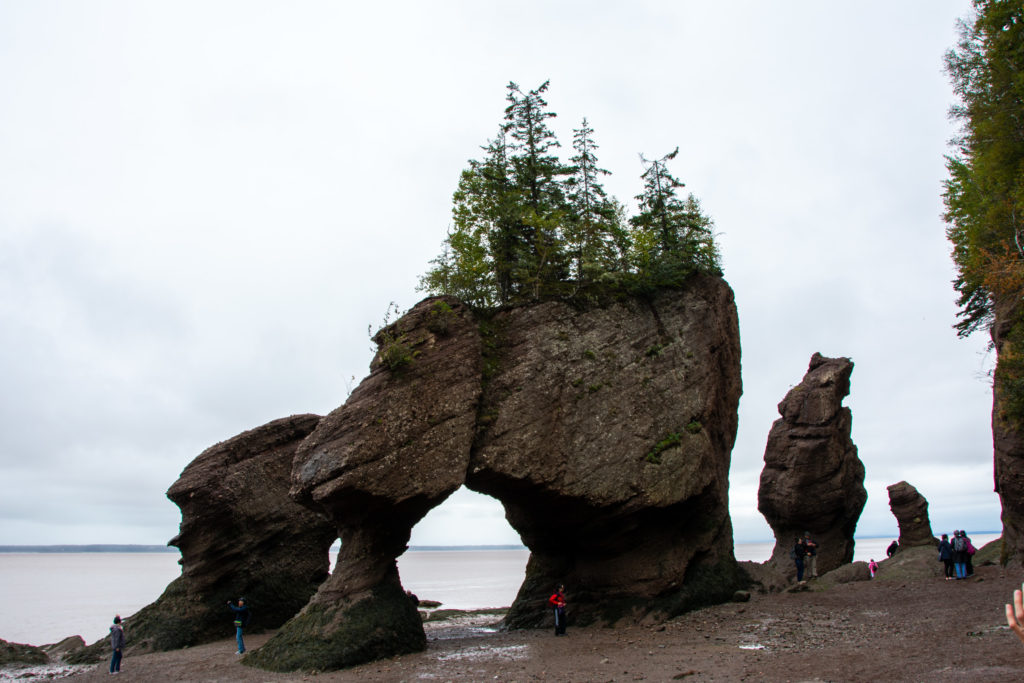 Unfortunately, we had to hurry a bit, because we had a long road ahead of us to our Airbnb in Dartmouth on the coast of Nova Scotia. On our way we found in Truro a nice Chinese restaurant, where we had a very good Chinese meal. When we arrived at our Airbnb we were very surprised by how big it was. We had a two-floor guest house to ourselves with two bedrooms. After some quick breakfast shopping, we ended the day with some of the beers we bought in the state shop a day before.
Thursday, September 26
Sunny 19C – We started the day, extremely relaxed with our own bought breakfast with coffee provided by our Airbnb host. Around noon we took our car to Halifax for some sightseeing in the city. We first went to Halifax's main attraction, the citadel, which is a military fort that was used until just after the Second World War. We could enjoy expositions, demonstrations and lovely views over the city. When we had seen everything, we walked down to the shore where we strolled over the boulevard. We had some quick beers and poutine at one of the restaurants. The boulevard walk was quite interesting since it contains a lot of old houses, but also some new buildings. Our walk ended at the cruise terminal where newly arrived passengers could buy their souvenirs without going into town.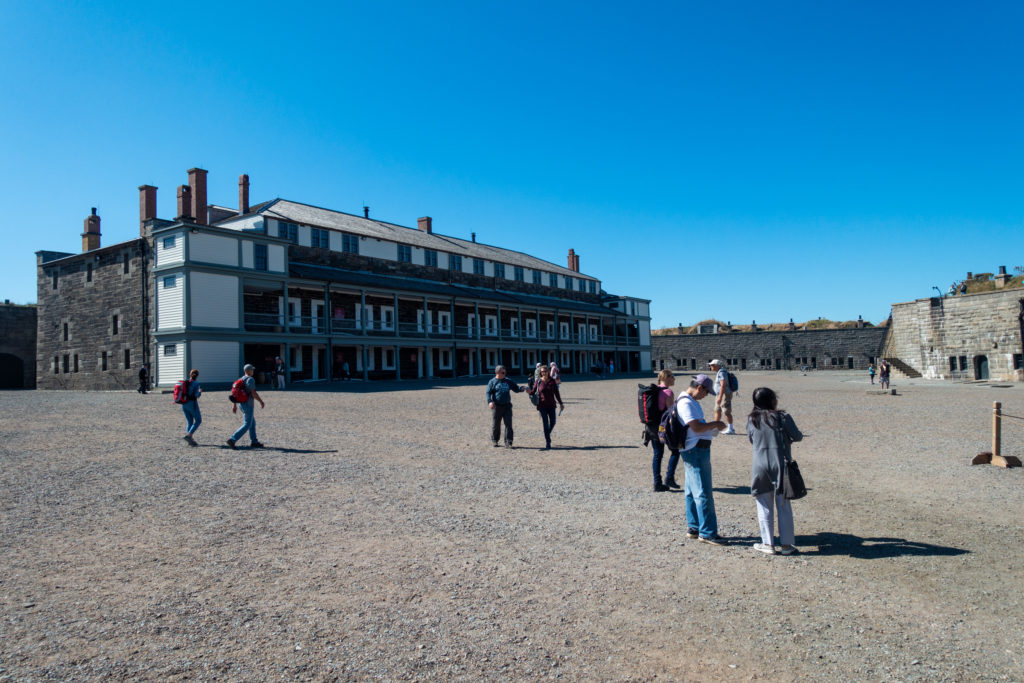 Then it was finally time to go to The Henry House to meet up with Lisa Dickson and her husband, who are locals that we know from the internet. We had some lovely beers in the pub, not for me since I was driving, together with fun conversations. Afterwards they walked us to the parking garage, where we said goodbye to each other.
Friday, September 27
Sunny 19C – We had to do our luxurious breakfast very fast, since we needed to leave on time and had to make the Airbnb look decent again. Our first and only mandatory stop was Peggy's Cove, which is a gorgeous fisherman's village with a lighthouse on a very rocky coast. There we met Lisa again with her two dogs. We walked for a bit on the rocks near the lighthouse and walked a bit through the small town before continuing our long journey to Digby for our next Airbnb, which was a beautiful and simple cottage on the coast of the bay, with a stunning view. We met our host Michael in their Chinese restaurant from where he guided us to it. After settling in, we walked to a restaurant, which was – as they all were – a fish restaurant. The steak was terrible, but the company was fun. We had time for a beer before we went to bed.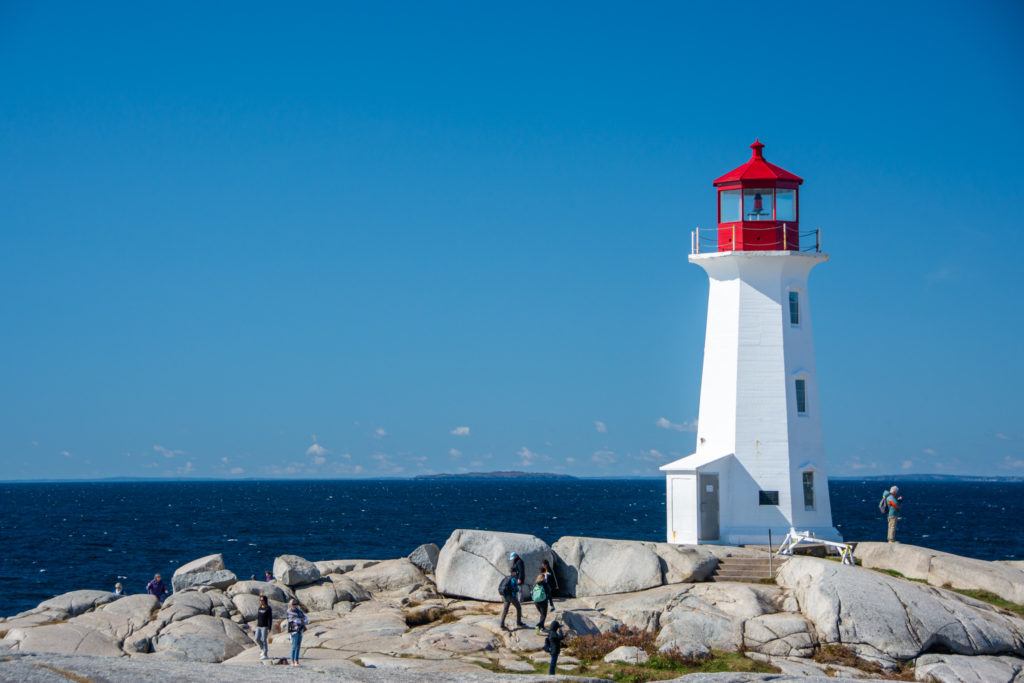 Saturday, September 28
Sunny 19C (Rainy 16C) – After eating very quickly some bread for breakfast we set off to our ferry to Saint John, which was a drive of only a couple of minutes from our cottage. We spend the free time onboard with browsing the internet with a beer. After arriving in Saint John, we did a quick stop at the Reverse Rapids in town, where the flow of the water is very chaotic, because of the low tide of the ocean, creating all kinds of streams flowing back or creating whirlpools. 
Halfway through our trip to the US, we decided to go for lunch in a restaurant in a tiny town. The place was run by a family where the daughter was serving us. Half an hour after leaving, I found out that I did not have my vest. Losing my second Noorderzon vest during a Canada trip was almost in the books, since we knew that the restaurant was about to close, but with the quick thinking of Arek and fast driving by Stefan, we made it on time to retrieve my vest. Sadly, we had to change the route a bit, to make it on time to our next motel.
The American border went fine. We were the only ones present, but filling out the form, waiting and answering questions, still took us more than 40 minutes.It was interesting to experience that Arek had to fill out less forms to cross the border than Stefan and I, since he already had to arrange a visum when he was still in Poland. We started using highways when it went dark until we finally reached our motel. We decided to go for food in the "restaurant" attached to the motel. It was more like a sports bar though, with not so great food and terrible service. Back in the hotel we discussed the remaining days of our trip and booked a motel in the Niagara Falls area.
Sunday, September 29
Sunny 16C – We started the morning by watching the last bit of the Formula 1 race that was airing on American TV. After seeing Hamilton finish we grabbed some take-away breakfast and coffee from the lobby and ate it in our room. With our tummies filled with muffins and danish, we left for Acadia National Park, which is an American park on an island in the Atlantic Ocean, which is accessible by a bridge.
Our first stop was Bass Harbor Head Lighthouse, where we could look at the old house and enjoy the beautiful scenery. Next to it, we could also climb some cliffs to get even better views. We wanted to do the Wonderland Trail afterwards, but we needed to have a pass for that. Luckily we were able to buy one at a nearby campground, so we could return and do the trail. It was a relaxing and easy trail to a lookout over the water.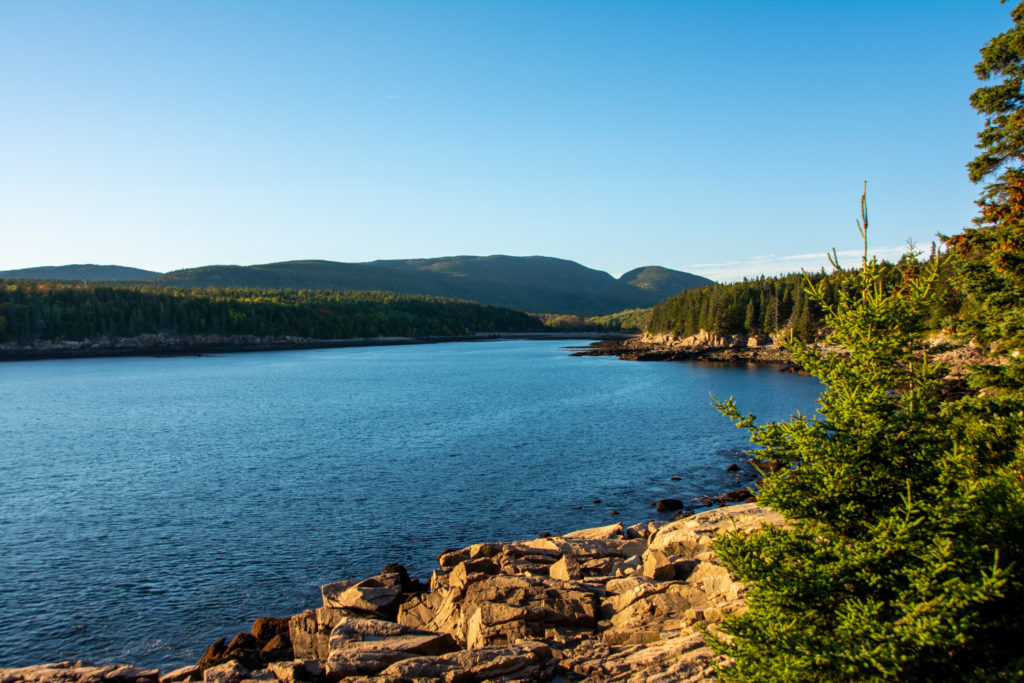 After the trail it was time for lunch. We found a place called 'The Upper Deck' where we could sit outside and enjoy stunning views over a bay, eat good food and listen to live music. After driving over the island, visiting Jordan Point and the summit of Cadillac Mountain, we arrived at Sand Beach, where people were still swimming in the ocean. After a visit to Thunderhole, where the seawater was rushing into a chasm that made a lot of noise when the water hit the rocks, we arrived at our final two stops. Those were Otter Cliff and Otter Point, which were at the very end of the island, resulting in stunning views over the ocean. To return back to the mainland, we had to finish our one-way park loop. When we finally got off the island, we made a stop at a restaurant for food, where we had to wait for 15 minutes before we were seated, while there were still enough tables available. Since I was the designated driver for the day, we drank some beers with non-alcoholic for me and watched the first half of the race when we returned to our hotel.
Monday, September 30
Sunny with clouds 13C – After another breakfast "to go" at the motel, it was time for us to bring Arek to Boston to catch his plane back to Poland. Halfway, we stopped in Waterbore at a pizza place, where Arek filled his stomach with a huge American pizza, which he almost finished by himself. While we were approaching Boston, it got busier on the roads, but we were able to drop Arek at the airport just fine. After quick goodbyes, it was time for me to drive out of Boston, which was quite a challenge with complex crossings with lights and lots of traffic. After a toilet break Stefan drove us to our Motel 6, which did not have a fridge for our beers. The area where the motel was, did not have a decent restaurant to eat, only the usual fast-food chains. Since we were not that hungry, we grabbed some food from the McDonalds, after visiting the liquor store for some American beers. In the motel, we planned our next two days, while drinking beers we had cooled by ice from the ice machine.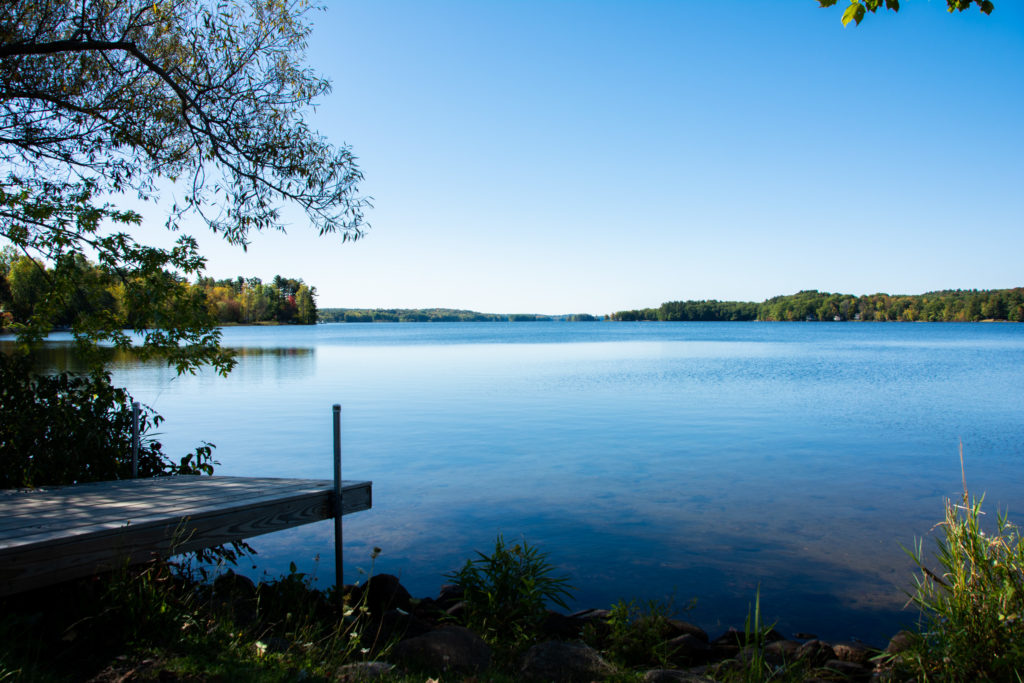 Tuesday, October 1
Cloudy 16C (Sunny 27C) – After drinking bad coffee from the lounge, we decided to go to the Denny's restaurant next door for some breakfast, and after having a good meal, and wishing the waitress a happy birthday, we started our tour to Lake George. We took the scenic route as usual, which was absolutely amazing, with beautiful small roads in the woods and through small interesting villages. When we arrived at Lake George we could see that during the summer it is probably extremely touristic with many motels, gift shops and large villas facing the water, but when we were there, the town and the lake were pretty much deserted. While continuing our route, we had not much else planned, so we stopped at a random falls sign. After parking our Dodge Durango, we walked a short trail to a creek, which was pretty okay, but there were no falls to be seen, but it resulted in this gorgeous picture below.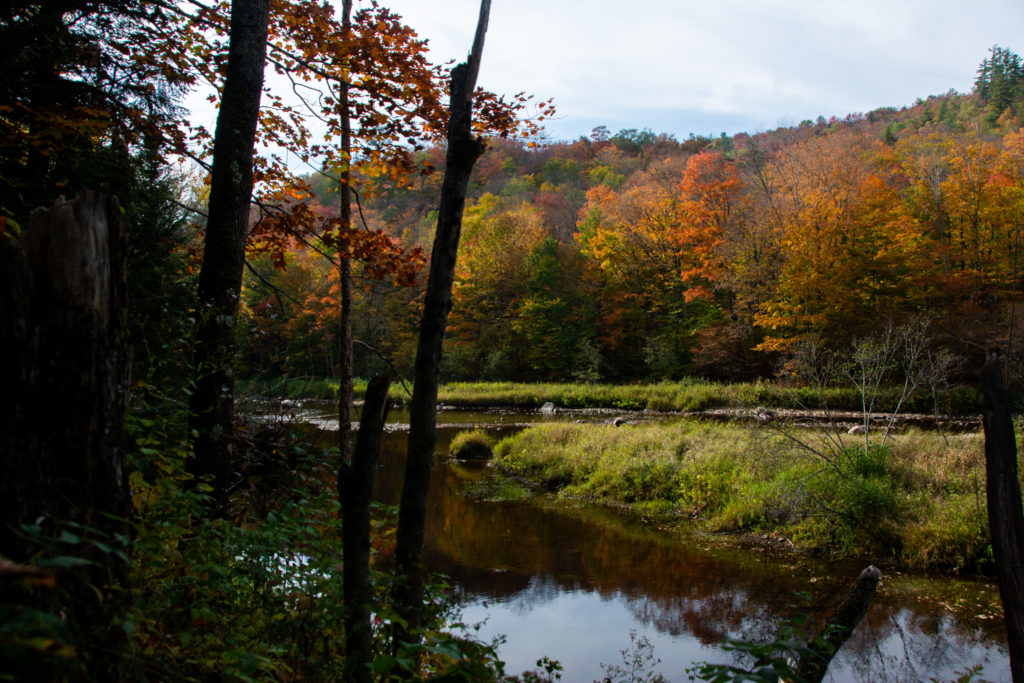 When we got out of our car in DeWitt at our motel, we were quite surprised how warm it was. It had heated up quite rapidly while the day was progressing. After changing rooms, because we were not able to enter our nonsmoking room with its cigarette stench, we walked a short while to The Distillery, which is a chain restaurant or bar for craft beers, pub food and pub quizzes, which was an excellent end of our day.
Wednesday, October 2
Rainy 15C – After a simple but decent breakfast in the lobby, we left through the rain and fog to Letchworth State Park. We found the park during a search last night, and we were quite impressed by the beauty of the park, which is based around a chasm with gorgeous cliffs, viewpoints. Sadly for us, it was raining all day, but we were able to walk alongside some of the cliffs. We ended our park visit at the three waterfalls (lower, middle and upper) near the end of the park. They were a wonderful conclusion to this fantastic park. We were there in the off-season, and together with the rainy day resulted in not many visitors there, making it a relaxing day.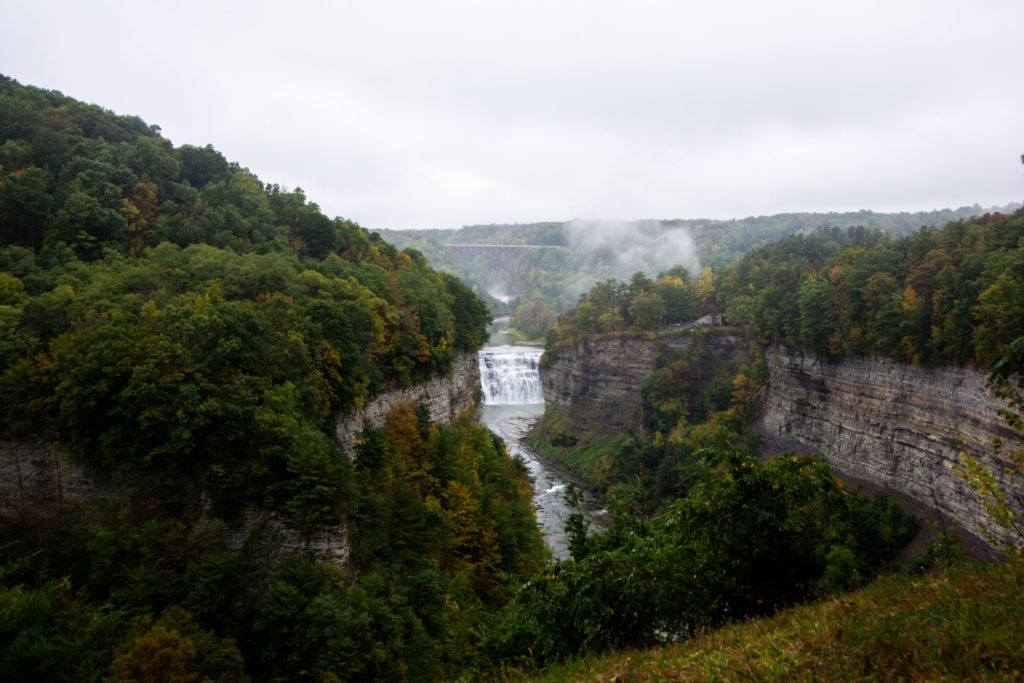 After the park visit, we continued our drive to the border near Buffalo to start our last days at the Niagara Falls. After leaving our luggage at our motel, it was time to check the falls, which were very impressive, and were also packed with tourists. Stefan took me to a Brazilian restaurant, where we could eat meat and other food from large skewers that waiters brought to our table. While the food was delicious, the restaurant was also very expensive. We ended the day by walking over the boulevard to enjoy the lights on the falls and with beers in our motel room.
Thursday, October 3
Rainy and chilly 11C – Our motel, where we would be staying for our last days of the trip, had the standard small breakfast buffet where you can take it to your room. Since it was a rainy day, we focused on doing the attractions where rain does not bother that much. We started by going to the visitor center where we could do "Niagara Fury", which is an attraction where you stand in a room with video around us, with all kinds of special effects with lots of real water. While being in the visitor center, we could also go straight to another attraction called "Journey Behind the Falls." You could visit it by taking a long elevator down. Down there you could walk through corridors within the rocks and experience the Horseshoe Falls from behind. You could also get on a platform at the base of them, which was very spectacular and extremely wet.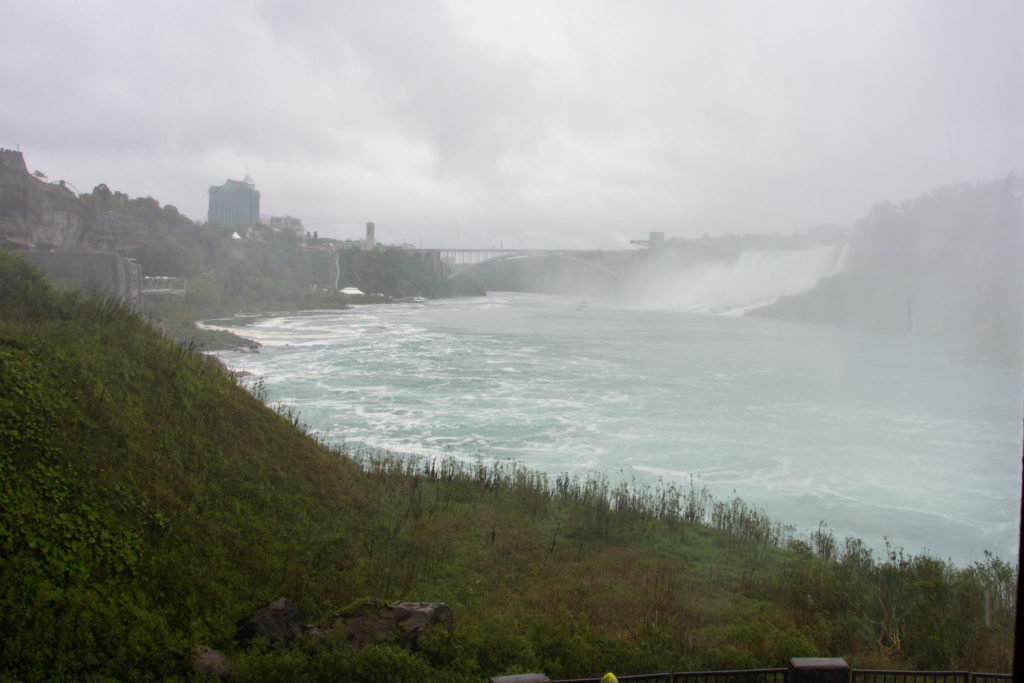 We had planned to do the four main attractions at the falls in two days, and with two down, we had the rest of the afternoon off. We decided to look for a bar, and by luck, we did find the Niagara Falls Brewery, so we tried some of their delicious beers there. We still had time left before dinner, so we returned back to our motel room to relax a little. We ended up in a bar a couple of blocks from the boulevard where we were almost alone and had some cheap burgers, which was quite a contrast with the day before with the Brazilian food. We ended the day by walking over the boulevard. This time the wind had changed direction, so the water from the falls was less intrusive while walking over the boulevard.
Friday, October 4
Cloudy 13C – We took the bus to "White Water Walk", which is a bit more down the river, where we could walk on a boardwalk next to extremely wild currents, after another elevator ride down. It was quite interesting. Before we went back to the town center, we also visited the "Whirlpool Aero Car", which we did not do, but only had a look at it.
Then it was time for the main attraction: "The Hornblower Niagara Cruise". It is the event where a boat takes you as close as possible to the Horseshoe Falls, which is a fantastic experience: To be so close to the raging water, and it makes you, of course, extremely wet. Along the way, the boat also passed the American Falls, which are a bit smaller than the Horseshoe Falls, but still quite impressive.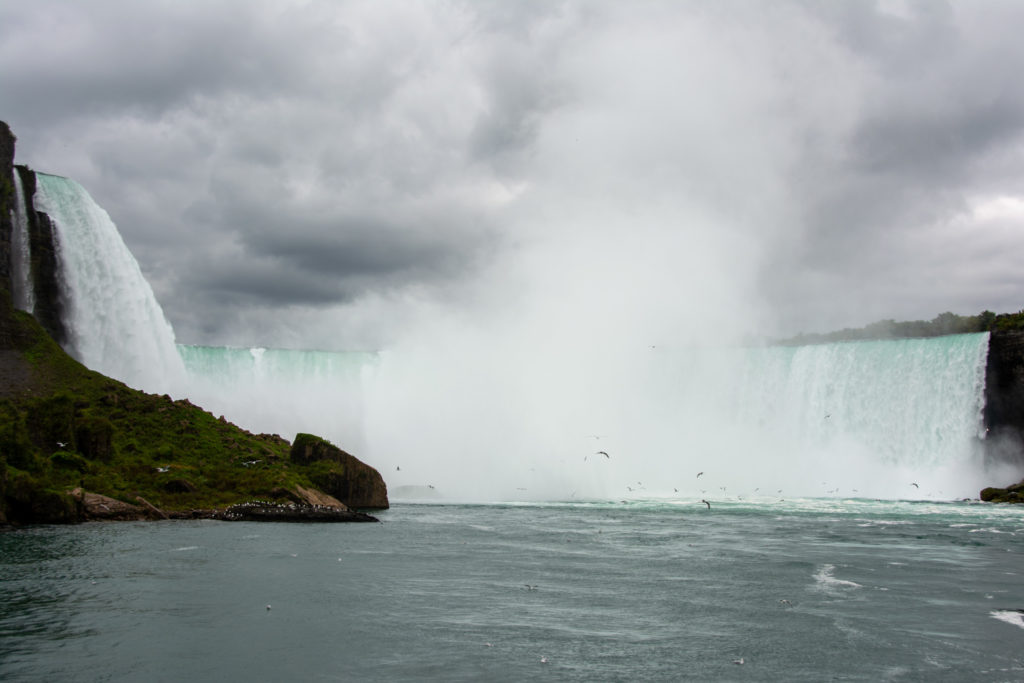 Before heading back to the motel, we had to visit our favorite brewery again to drink the rest of their beers in their collection. We went to an Outback Steakhouse for dinner, which is an Australian themed restaurant chain, which takes a lot of pride in their quality of steaks, but the quality of the steak and how it was prepared was extremely disappointing. We ended the evening by watching the fireworks, saying goodbye to the falls, and by drinking our last beers before having to leave the apartment to go back home the next day.
Saturday, October 5
Sunny 13C – After filling our stomachs with coffee and food, we started packing our suitcases for our journey back to the Netherlands. We kept our tradition of avoiding highways, which took us to some beautiful viewing points. After stops at a power plant near the Niagara Falls and some viewing points over the lake, we arrived at our final destination, which was the airport of Toronto. After returning our wonderful Dodge Durango at the car rentals, we went through security and customs at the airport and enjoyed some lounge time before our flight back home.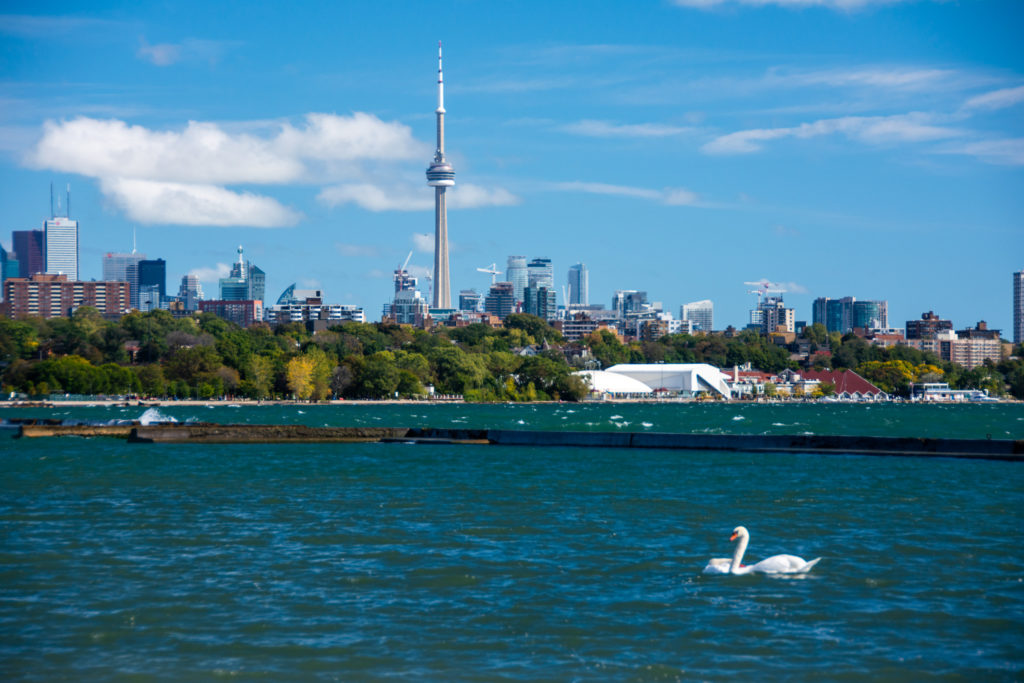 Our flight went pretty smooth and we arrived before the scheduled arrival time. Sadly it was still too early to have the first train back to my hometown. Stefan was kind enough to wait with me at the airport for a cup of coffee before we both went home after a wonderful vacation.