Dag 1 – September 2, 2017
In Cuba: warm with some clouds
The start of the trip was a bit of an administration horror, I had problems getting a parking ticket at the airport. Even getting a train ticket as the alternative was a problem, but at the last minute I could fix the parking reservation at Schiphol and could avoid going by train. But because of the trouble, I already booked a room in Ibis budget hotel. So I started my day there. I met Peter from the group already on the plane because we were both booked at the same time and where sharing our booking. In Madrid, we also met de rest of our group including our guide Jacobo. Apparently, the group already had contact with each other by WhatsApp. When we arrived in Cuba where we met our local guide Antonio and our chauffeur Koki we arrived at the hotel. After a small drink with each other in the lobby, we all went to bed.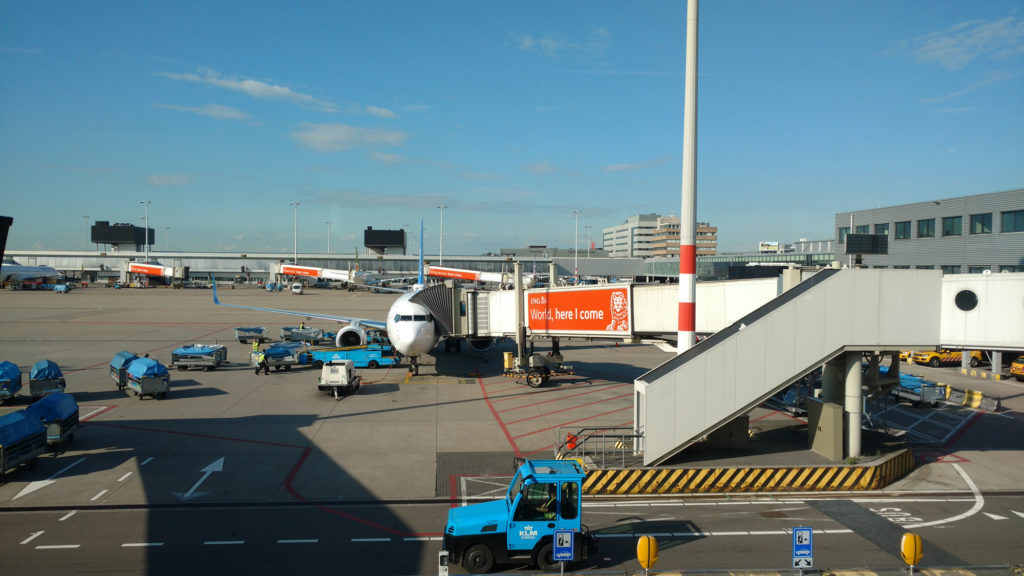 Day 2 – September 3, 2017
Sunny and warm
After breakfast, we had a group meeting in an air-conditioned room. There we learned more about each other and some travel agency things were discussed. Afterwards, we left with our local guide Antonio to the old town of Havana, where he showed us all kind of buildings and places. He ended the tour on a square where there was also a café with its own brewery. So we stopped there for some beer and hamburgers. We were shown a famous bar (top ten in the world) on our tour, so we went back there for some mojitos. In there we also met some Americans from Florida. After the mojitos, we went to another famous bar called The Floridita, where we had Daiquiris. Back in the hotel and after spending some hours in the pool, with beer, we hopped on the bus for a drive to the other side of the bay. We stopped at the Jesus statue and a lookout near the fort before we headed to a nice restaurant for dinner.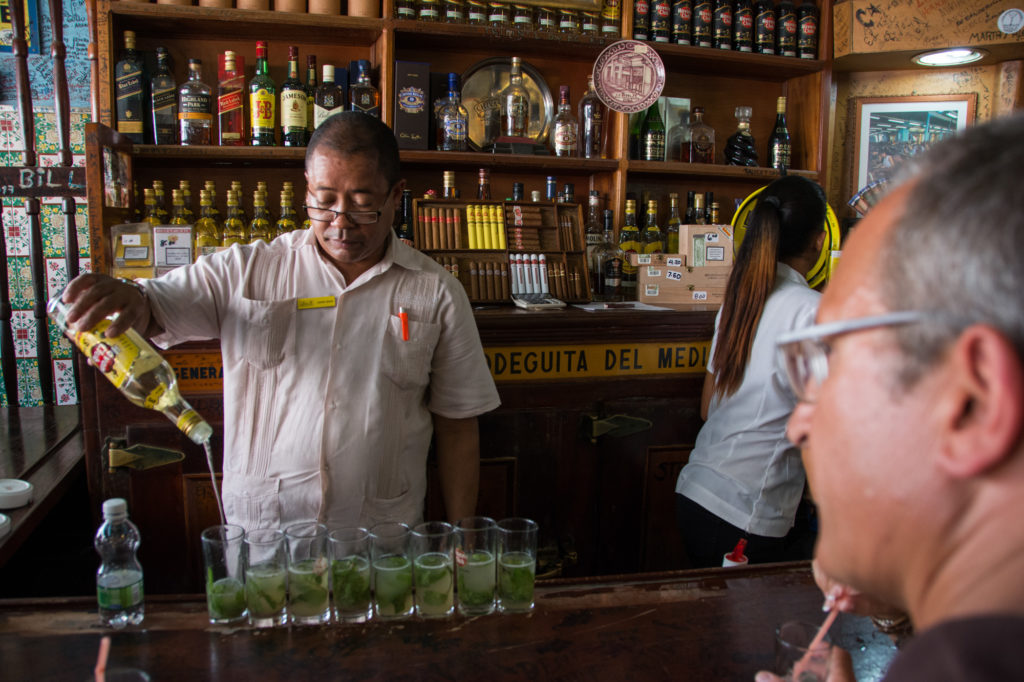 Day 3 – September 4, 2017
Warm with at the end of the day some clouds
After breakfast in the hotel, we went on a bus tour with Antonio as our guide. We drove with our air-conditioned bus to an African heritage street with a lot of colors and some statues. Afterwards, we drove to a square with the revolution and government buildings. After some sightseeing, we left for our final destination: Hotel Nacional, which was a mafia hotel, but is now a five-star hotel and some movies were recorded there. When we arrived back at our hotel, three of my group and me left for a lunch in a nice restaurant on the first floor where we could sit on the balcony.
We arrived just back in time for our tour with the old cars. With three old-timers, we drove through Havana. Our driver did not speak English but we could have a laugh with him. They drove us to the oldest tree in Havana and to a park where nearby we could drink Mojitos and listen to Cuban music. When we returned, it was off to the pool again that sadly closed at 6 PM. After relaxing in the room we left for the Havana Social Club where we could enjoy an evening of entertainment from some very old Cuban singers while we drank and ate a very luxurious meal.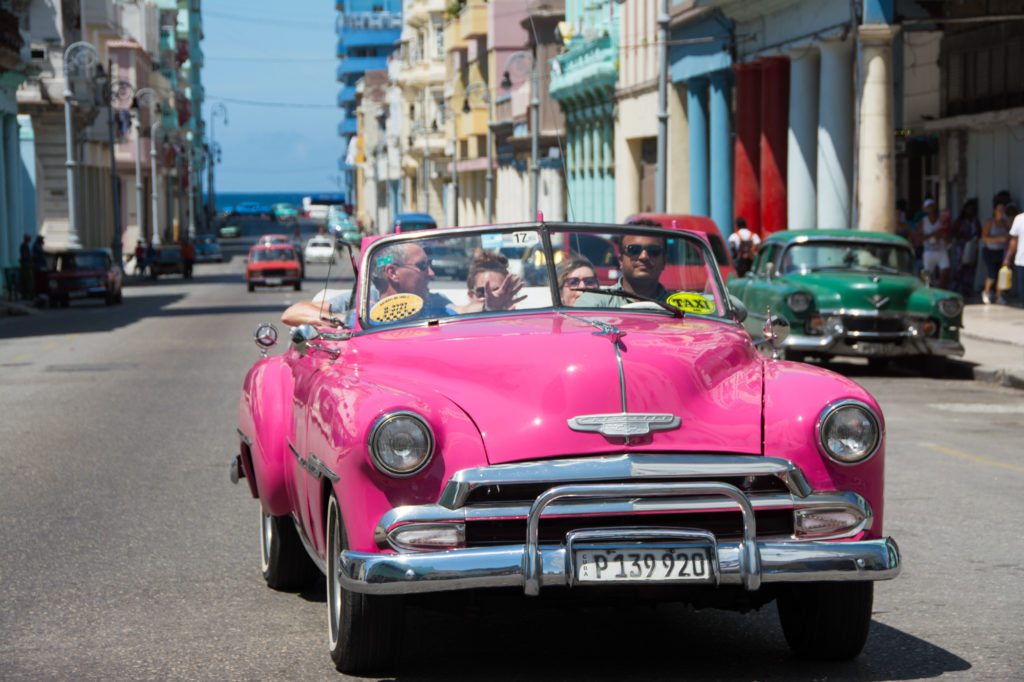 Day 4 – September 5, 2017
Sunny with showers
After a quick breakfast, it was time to leave Havana. We went to a small community village where we drank some very fresh coffee from their own lands. Afterwards, we visited an old coffee plantation and drove to Terrazas where we could dive into a river. We could even jump from a small waterfall into the water! It was just paradise.  We went for a lunch on a small farm in the middle of nowhere where I stepped in some poo with my bare foot. After cleaning it we got back on the bus again to drive to our hotel, while it was pouring out of the sky. We had to take shelter while the hotel crew finished our little cabins. After refreshing in the hotel, we all got together for some beers at the bar. At 7 PM we received a welcome drink and we could eat at a buffet, while a salsa band was entertaining us with their lovely music.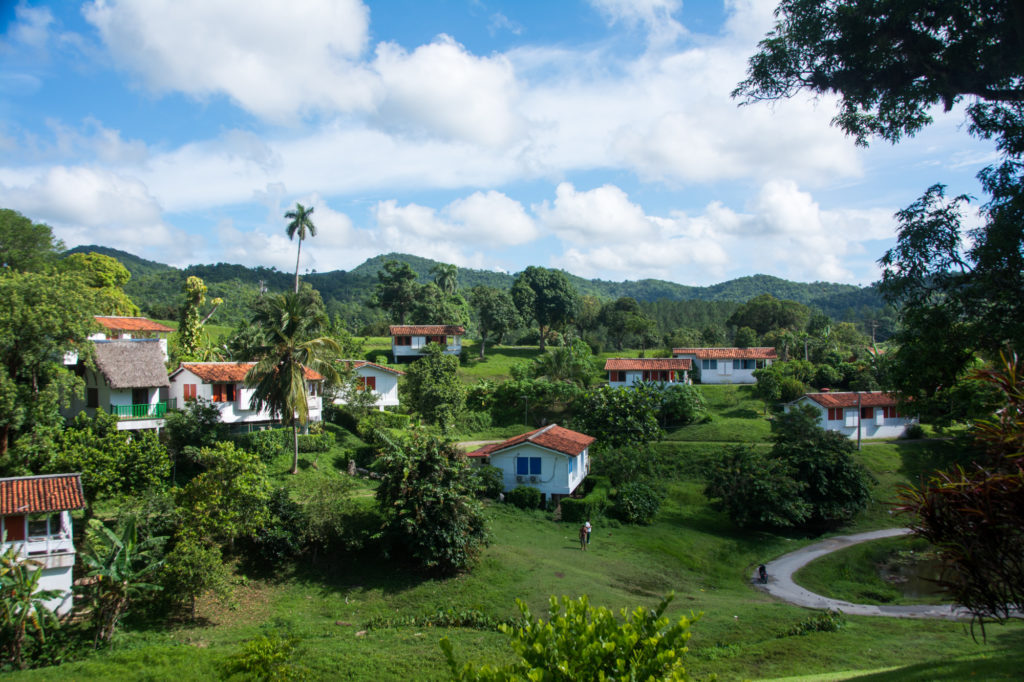 Day 5 – September 6, 2017
Sunny with a shower
In the morning we left for Pinar del Rio where we visited a liquor factory. It was small, but the shop had some very nice cigar gifts that most of us bought. I also bought a bottle of good rum over there. We visited a cigar factory afterward where we were not allowed to film, but where we could see how they were making the cigars by hand. After this visit, we continued our tour to the town Vinales. First, we went to a lookout point where we could see how beautiful the landscape was. Also was there live music present at this lookout point. After this pit stop, we went to a corner of the town, where we started our walk through very muddy terrain, but with a very beautiful view. From time to time we had to let tourists on horses pass and I got a nasty cut on my leg from a plant which I could clean at a place where we could buy some cocktails. We could join the farmer in his barn where he showed us how he makes cigars with the secret ingredient 'vitamin R' and honey as glue. After lunch, with a beautiful view, we went for a short visit in town where we drank 'Dutch Windmill' beer under a small roof because it poured again out of the sky. When we returned in at the hotel, we ate a quick dinner over there and went for drinks at the bar.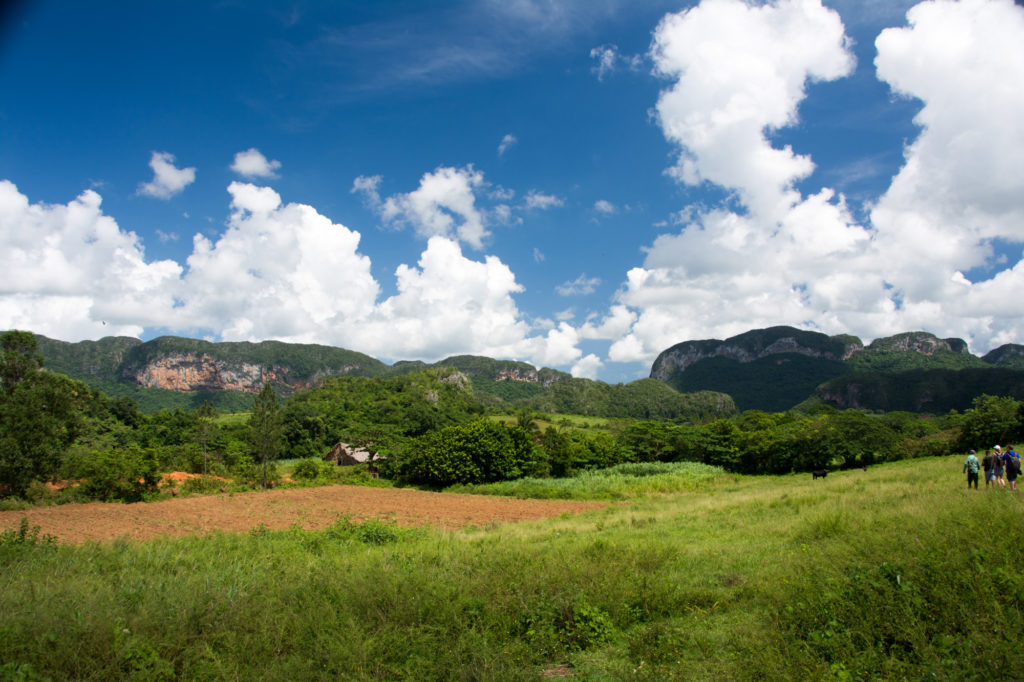 Day 6 – September 7, 2017
Sunny with a shower
After a quick breakfast, we drove, over a very bad road through the mountains, to a beach near Santa Lucia. We spend most of our day there by swimming, laying down and having lunch. We drove through the rain to a restaurant with the most fantastic view over the valley. Sadly we had to sit inside because of the rain. Back at the hotel, we received the bad news that we had to stay a bit longer in the hotel because of the hurricane Irma.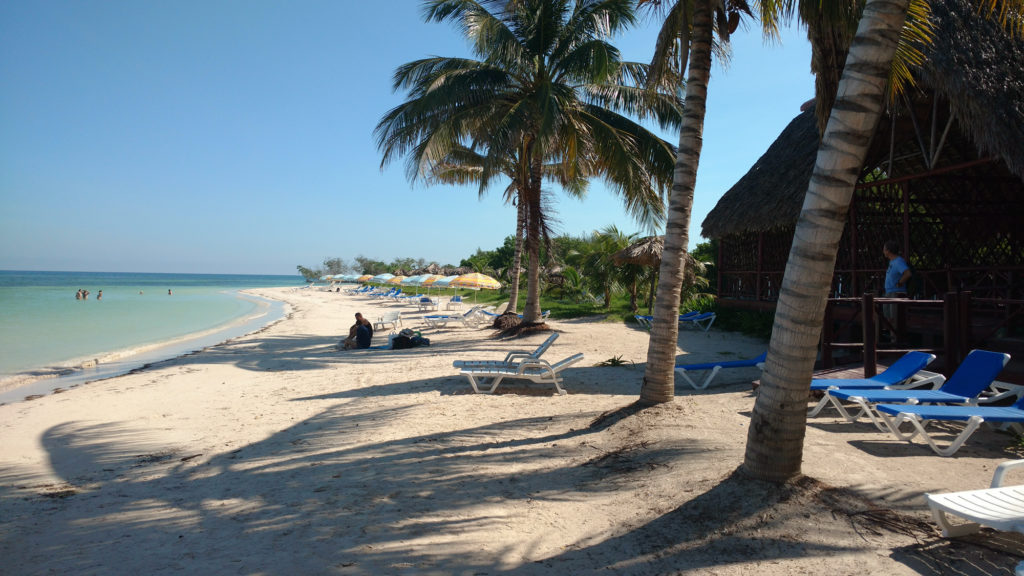 Day 7 – 8 September
Warm and Sunny
At 10 AM we received the news we were going back to Havana to sit the storm out in a safe hotel, so an hour later we stepped in the bus drove back to Havana. After a small pit stop, we first drove to our guide's office before going out to lunch in a very nice restaurant on a roof with a nice view. The music was pretty excellent as well.  When we arrived at our new hotel we just sat in the lobby for a while before we all headed out for dinner in a pizzeria next door.  When we were done we heard that almost everything was closing down for the hurricane, so we made our own little party in the lobby of the hotel with music, salsa and some drinks.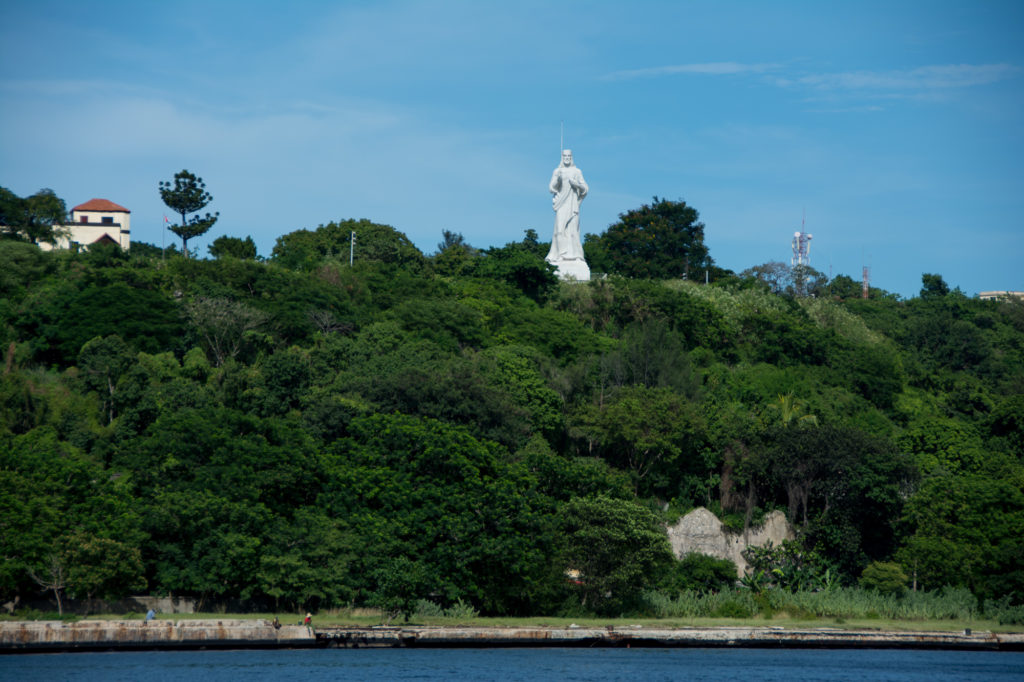 Day 8 – 9 September
Hurricane day
Today would be the day for hurricane Irma to hit our part of Cuba, it would bend to the north, but it was not known when that would happen. After a good breakfast in the hotel we just went out for a walk and saw the wind getting stronger and stronger, it was hitting over the "Malecon" and the police did not let anyone through. We saw all the people preparing for the storm like barricading the windows and closing doors. We also saw the first tree collapse. We ate and drank just in our own hotel. During dinner, the power went down and candles were lit. It was getting hotter in the lobby and the winds were getting stronger and stronger. Apparently, we had a salsa group from Slovenia in our hotel and they entertained us with an evening of salsa by candlelight.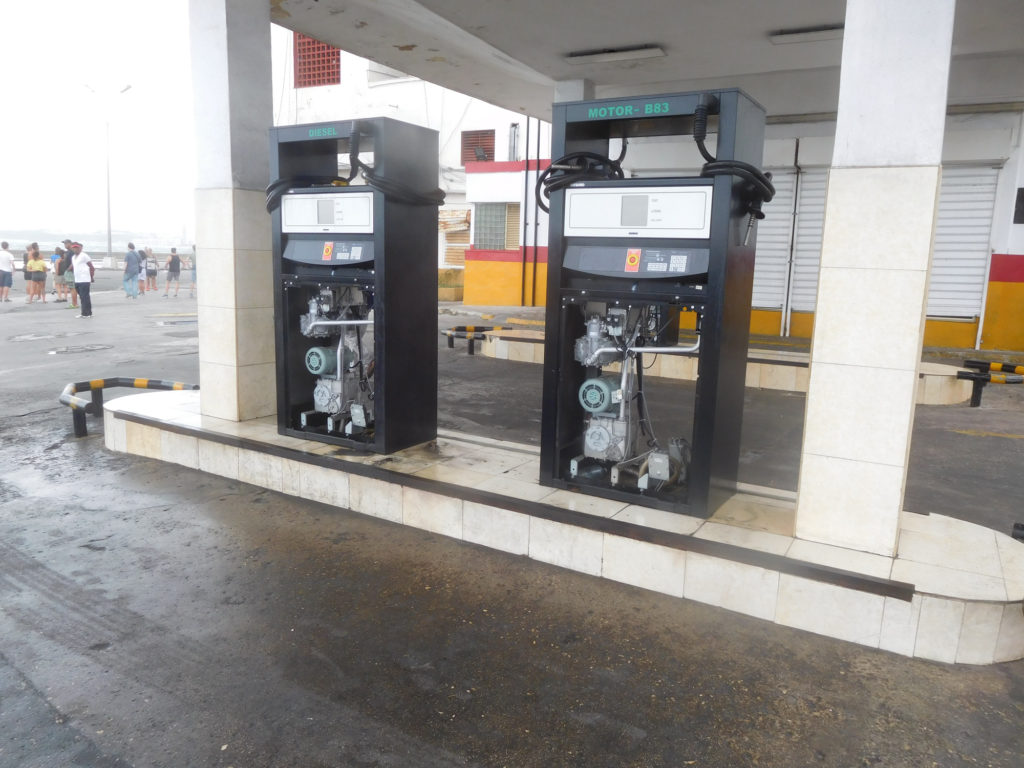 I went back to my very warm hotel room to try to sleep during the storm. My stomach was also not okay so I spend most time listening to the strong winds and sitting on the toilet. The night went pretty okay, I heard one window of the hotel collapsing on the ground (from my group mate) and heard the nearby tree crashing on the ground. At the end of the night, the power came back on and I could finish my night while listening to the sound of my air conditioner.
Day 9 – 10 September
Tropical storm
After breakfast we heard that we will be staying another day at this hotel and that tomorrow we would hear where we should go to the next day.  We went for a small walk back to sea and could see the damage that Irma had done. Floods were everywhere, Cubans were even swimming in the streets. Most of us did not want to stay in our hotel the whole day again so we went for lunch in Hotel Nationale. In the basement was a cafeteria where we could eat when the kitchen opened up a half hour later. Since every restaurant was closed, it was very busy with long queues outside. After consuming our lunch and we went to the hotel's garden to see the damage there. A lot of trees were damaged there as well. We could also see that the gas station was wiped away below because of the storm. Before dinner in our hotel we went for a last walk on the Malecon. What we saw was very hard to describe. Everything had been flooded so all belongings of the Cubans over there were damaged or were just gone. They already started to clean up the place. They even did it with a smile on their face. I will always take this image with me. I am glad to leave Havana, but I will do it with mixed feelings. I ended the evening with another boring buffet dinner in the hotel restaurant, since it is the only place that was open.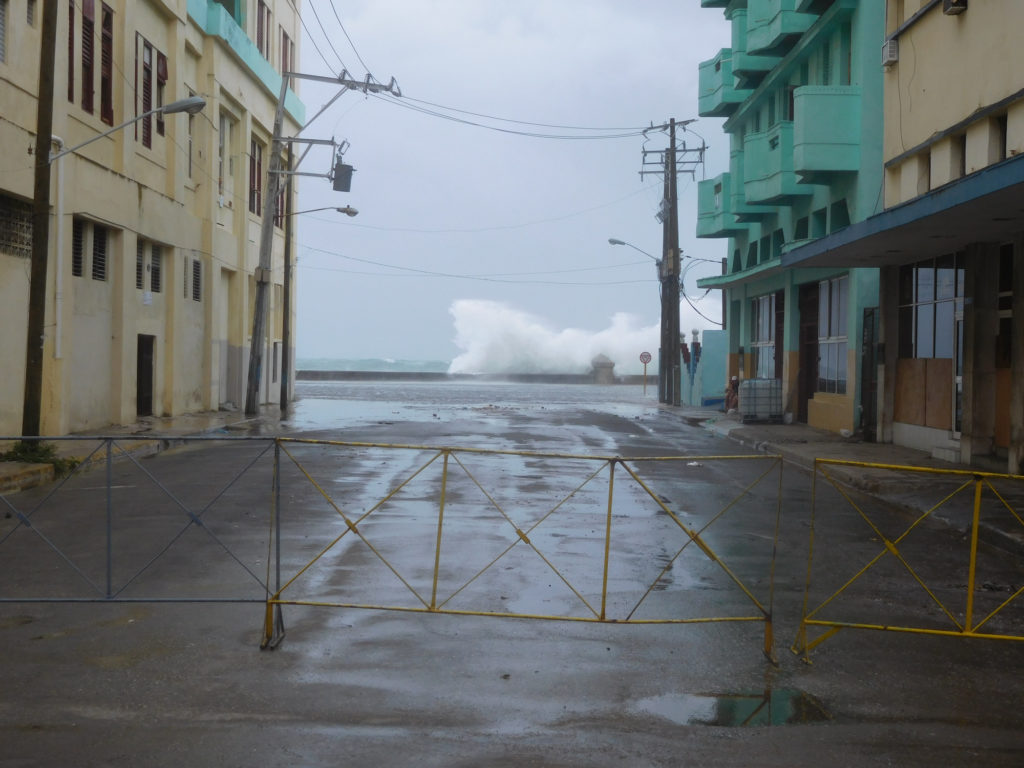 Day 10 – 11 September
Sunny with one shower
This day we heard the bad news that we were not going anywhere… leaving Havana was not an option anymore. Everyone thought in horror what another day in the hotel would mean… luckily one of the group asked if Koki could just drive us somewhere. So we went to the old town of Havana again. In our free time we drank a lovely beer at the brewery again. We had an expensive lunch in the Buena Vista Social club with wine for 9 CUC. After lunch we continued our free time. We wanted to drink at a lovely place, but sadly it was closed. A lady tried to lure us to another bar with no seats outside, which we refused, but luckily ended up at the square itself for a quick beer. Back in the hotel plans were made for another fun night in the town, but I was just mentally drained and was the only one who stayed behind. I watched some Game of Thrones on TV using the laptop and listened to my audiobook.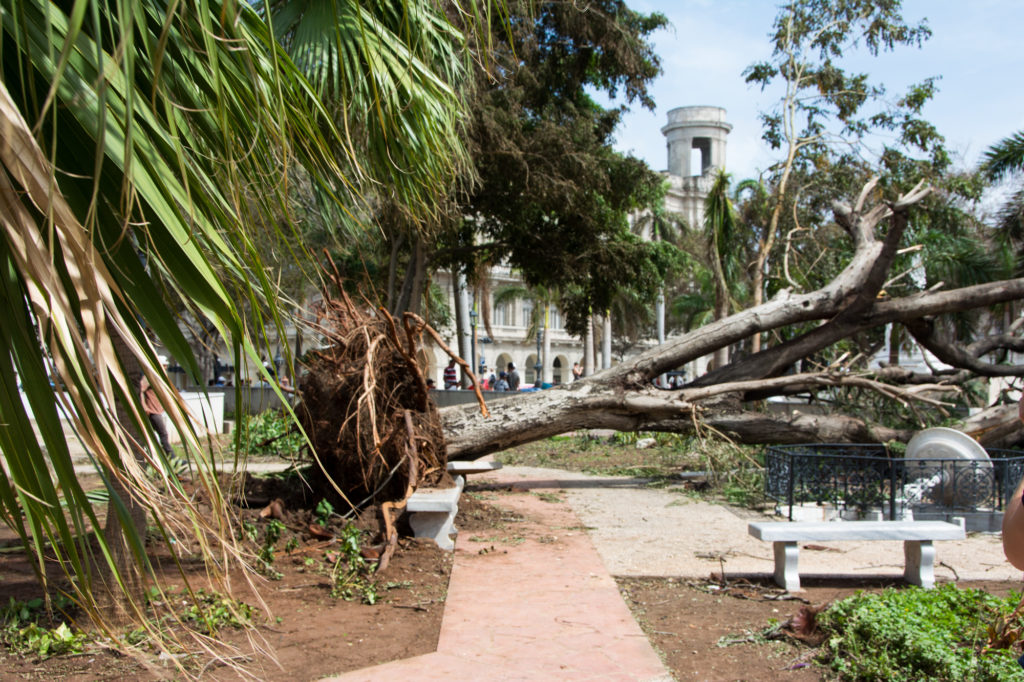 Day 11 – 12 September
Sunny with clouds later in the afternoon
At 9 our bus ready to take us to the beach. Since the tunnel under the bay was still out of order, we had to take the long way around. When we arrived at the beach we still could see strong winds. And since that beach was full of stones swimming was not possible. The lifeguards brought chairs but luckily Jacobo looked for a better beach and had found it. There we could swim without problems; we were just not allowed to go too far in the water because of all the big waves coming in. Beers were a bit of a hassle to get, but we still managed to get some. We had lunch again at the first rocky beach where we had water with our meals since without electricity the beers were too warm to drink. We also had cake there because it was Kelly's birthday! After a good lunch we could spend some more time on the beach before returning to the hotel.  After some relaxing, we took old taxis to the city center for a nice evening. While we were walking to our restaurant, it suddenly went dark: Havana was without electricity again, so when we ended up eating in the dark and not all items on the menu were available, but it was a fun experience. Halfway the dinner, lights came back on and we could resume our fun evening. I went home earlier with Marja in our own cab to have a good night sleep.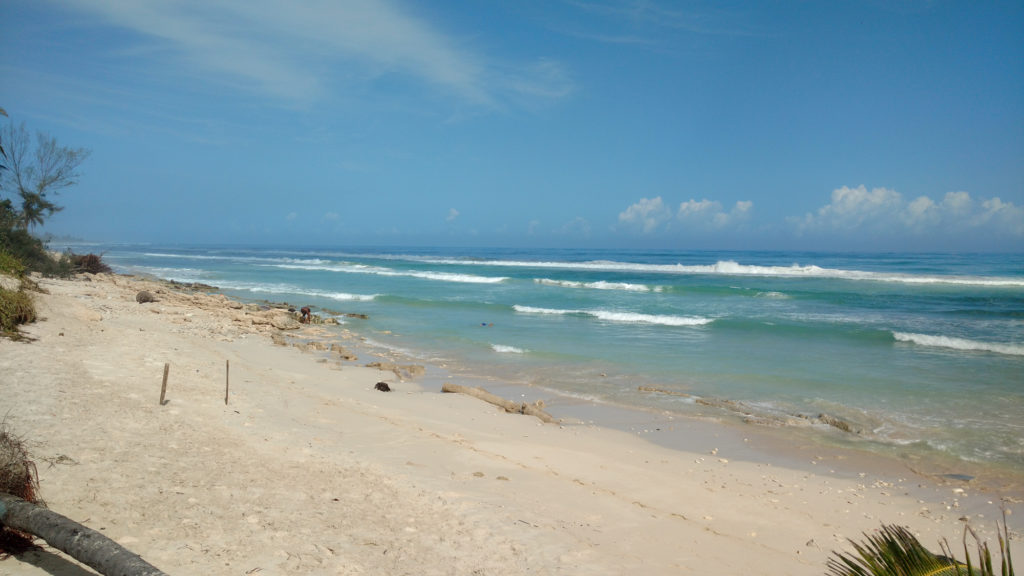 Day 12 – 13 September
Sunny with a shower
This day would be the same as yesterday: another day at the same beach. Well, at least it is better than spending another warm day in Havana. On the beach you could at least relax and find some coolness in the water. The waves were less frequent than yesterday but some of them were still very high. After lunch it started to rain, which was a weird experience since you are already wet. We returned a bit early to avoid traffic, and we could relax a little in our hotel before our last dinner with the group. The meal was in the same place on the roof where we had lunch when we entered Havana for the second time. It is expensive but it has good food and cocktails. There we thanked our local guide Antonio and driver Koki for the awesome work that they did. When we were back in the hotel we all went for some drinks near the swimming pool that was open again.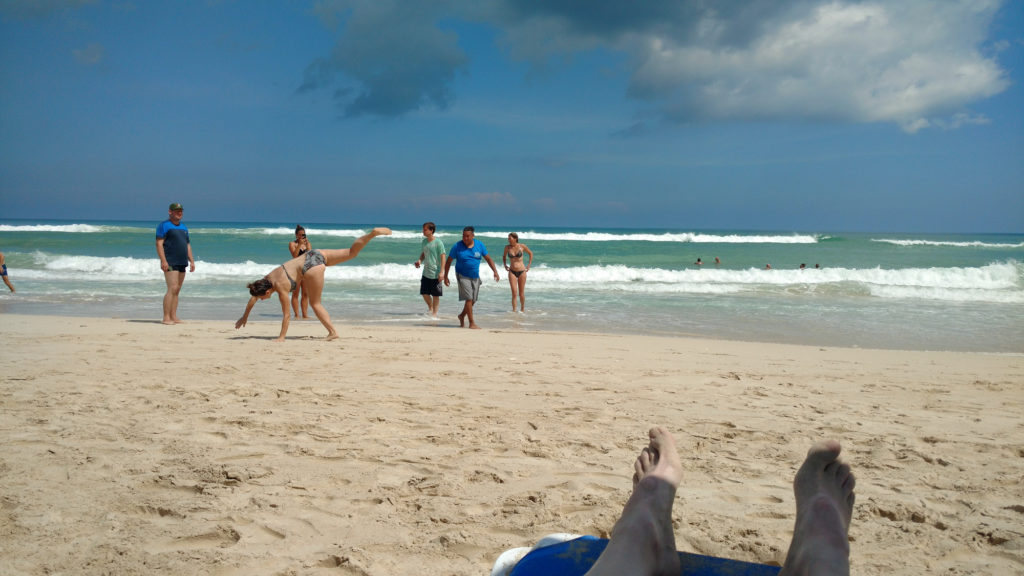 Day 13 – 14 September
Sunny
Today was the day where we could go home.  We had to check out at noon, so there was enough time to sleep in, shower, eat breakfast and pack. After leaving the hotel we went for a final lunch as a group. After lunch Carline and I went on a card hunt for Jacobo. This was an adventure because while speaking no Spanish we had to look for an envelope. We finally succeeded with help of a local. When we returned to the bus meeting point, it was time to leave for the airport. In the bus we thanked Jacobo for all his hard work. At the airport we had to wait to check in, after a short wait in at the gate, where there was no food, we could finally board the plane. There I heard the news that Peter and I were upgraded to business class, so it was a smooth flight back home. I ended my holiday with a traditional dinner at the McDonalds in Lelystad.