Below you can find my report of the vacation I did with two friends in 2022. We traveled through the Benelux and France.
Day 1: Groningen – Bergeijk, The Netherlands
August 28, 23C Sunny – For this holiday, I would not be using my own car, as I did in the two previous years, but would be accompanied by my two friends Stefan and Arek. Since I still liked the freedom of being able to cook my own food, it meant that I had to take the train to Utrecht with a suitcase, a backpack, my camera bag and a groceries bag with cooking equipment and groceries with me. Walking to the bus stop in Groningen was already quite a challenge. Luckily Stefan waited for me in Utrecht with his SUV that we would use for this trip. Together, we first rode to our hotel in Bergeijk to check in and stash our bags.
In the hotel room, we waited for Arek to land at Eindhoven airport, which was only a 20-minute ride to pick him up. After being reunited, we drove back to our hotel to quickly drop off his bags before we took the bus to Eindhoven for a bit of sightseeing, but mostly to have drinks and good conversations. Our first stop was Brewery 100 Watt in Eindhoven, where we could taste their delicious beers and food. We concluded the evening, before returning to our hotel, with more drinks at the other brewery Van Moll in Eindhoven.
Day 2: Bergeijk – Valkenburg, The Netherlands
August 29, 21C Sunny – It was time to start our first drive of the holiday. We prepared a route that went already a bit through Belgium. We drove using small roads, and we came across two nature areas. The first was an area called De Pan, a beautiful forest and a heath landscape, where we walked for a bit.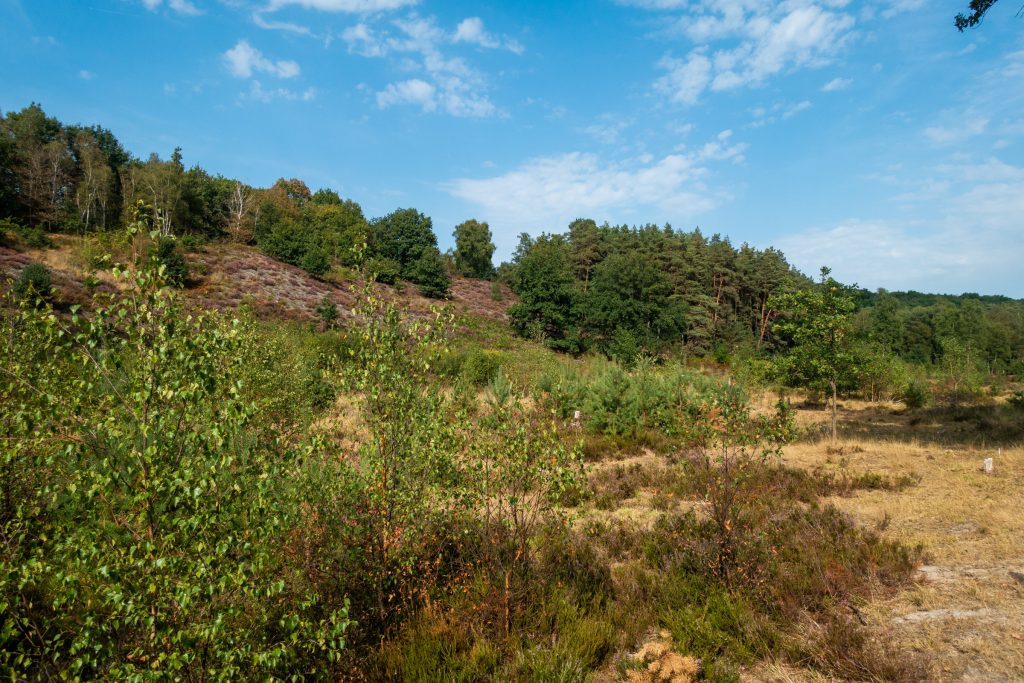 We continued our drive through Belgium, using small roads that sometimes ended up at a dead end. Back near the border with The Netherlands again, we found ourselves at the Mechelse Heide for another walk. But first we treated ourselves with some drinks, soup, and a Dame Blanche for me. The area consisted again of much heath landscapes, but this time there was more elevation, resulting in breathtaking scenery. After arriving at the same hotel in Valkenburg, where I had stayed two years before, we walked to the touristic area to show Arek what Valkenburg is all about: eating and drinking. First, we ate food at the same place my brother and I went to during my previous visit, and afterwards, we drank another beer at a different bar. Valkenburg is always fun to walk around. This year though, it felt a bit empty. There were quite a few bars and restaurants closed, which was unexpected.
Day 3: Exploring Valkenburg and Maastricht
August 30, 26C Sunny – After breakfast, we found a hotel in Belgium for us to stay and also planned the route we should follow the next day. Our first attraction of this day was the Steenkolenmijn in Valkenburg. It is a mine where we could do a tour of about an hour in which a guide (in our case Jeu) told us about the history of mining coal in the area. We saw all kinds of machinery and tools the men were using back in the day. When we walked to the train station, we passed the campground Den Driesch, where I had camped with a friend many decades ago. Apparently, it is now closed for an unknown reason.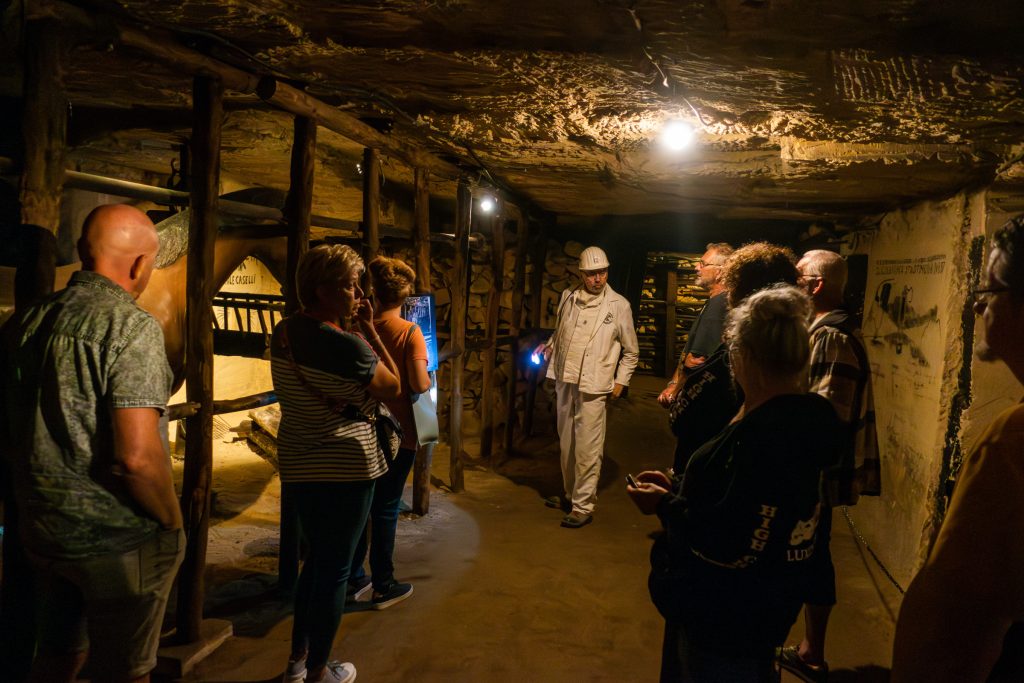 After arriving in Maastricht, we started looking for a bank for Arek so he could change some money, but it is apparently something our banks do not do anymore in the Netherlands. After this failure, we decided to go for a beer at one of the smaller squares in the city center for some craft beers. We did some sightseeing afterwards by visiting the Bisschopsmolen and Onze-Lieve-Vrouwebasiliek. We ended our Maastricht trip by going to the same restaurant at the Main Market that I went to two years ago for food and beers. Back in Valkenburg, we went to the tourist area again for some final drinks before heading back to the hotel.
Day 4: Valkenburg – Rogery, Belgium
August 31, 21C Sunny and a shower – After eating breakfast, where I weirded out the hostess by cracking an egg on my forehead, we left Valkenburg to meet our friend Theo in Vaals. Being one of the biggest Pink Floyd fans in the Netherlands, he has made a Pink Floyd museum in his flat. After interesting conversations and enjoying the stunning view from his balcony, we left to visit the next attraction, just around the corner: the three-border point. I also saw it two years ago, but it is an interesting place to take Arek to. Afterwards, it was time for something new because we left the Netherlands and entered Belgium to drive to Monschau, a small German village in a narrow valley. It took us some time because we encountered some roads again, which we were not allowed to enter. Monschau is quite unique with its gorgeous buildings. We walked around, drank some beers while wasps attacked us and drove to our apartment in Belgium, after buying some groceries first since we knew that the apartment had a microwave.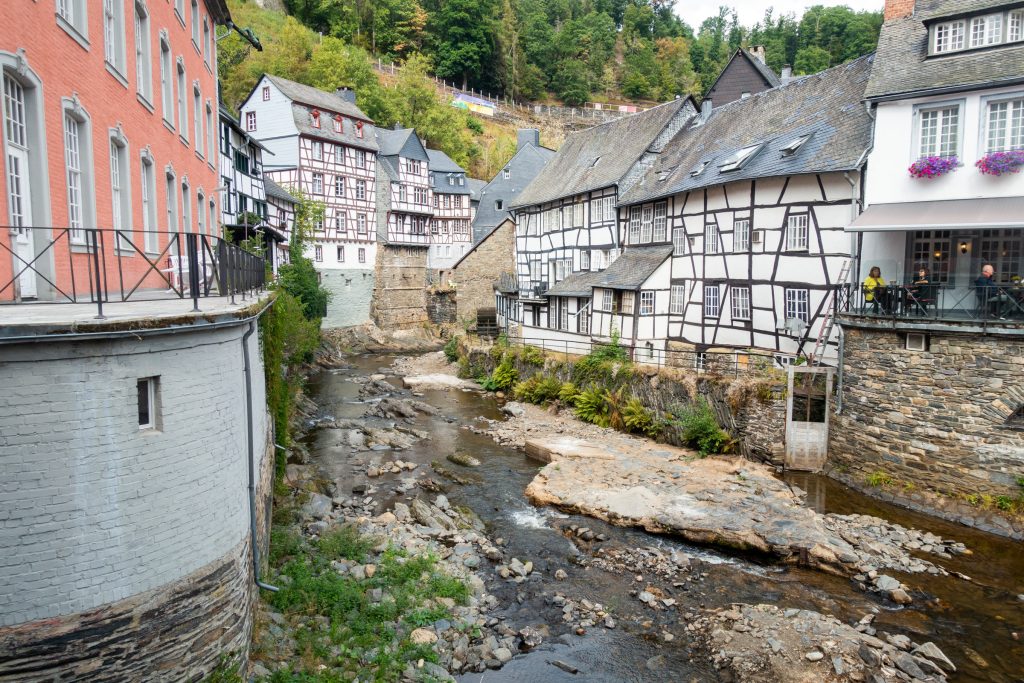 We were greeted by the lovely hosting family, who, fortunately for us, spoke Flemish. We loved our stay there and decided to book an extra night. We ended the evening by enjoying the view over their garden on their balcony, eating our microwaved food and drinking Belgian beers.
Day 5: The Ardennes
September 1, 25C Sunny – The host provided a lovely breakfast for us before we returned to our room to plan our day trip. Our first stop was the Leffe Abbey in Dinant, a gorgeous town alongside a river. Sadly there was not much to see at the Abbey without paying for a tour, so we sat outside and drank some Leffe beer that was sold out of a truck in their garden. Our next stop was some forests near the town of Spa. We had a pleasant walk, but the forest offered nothing special.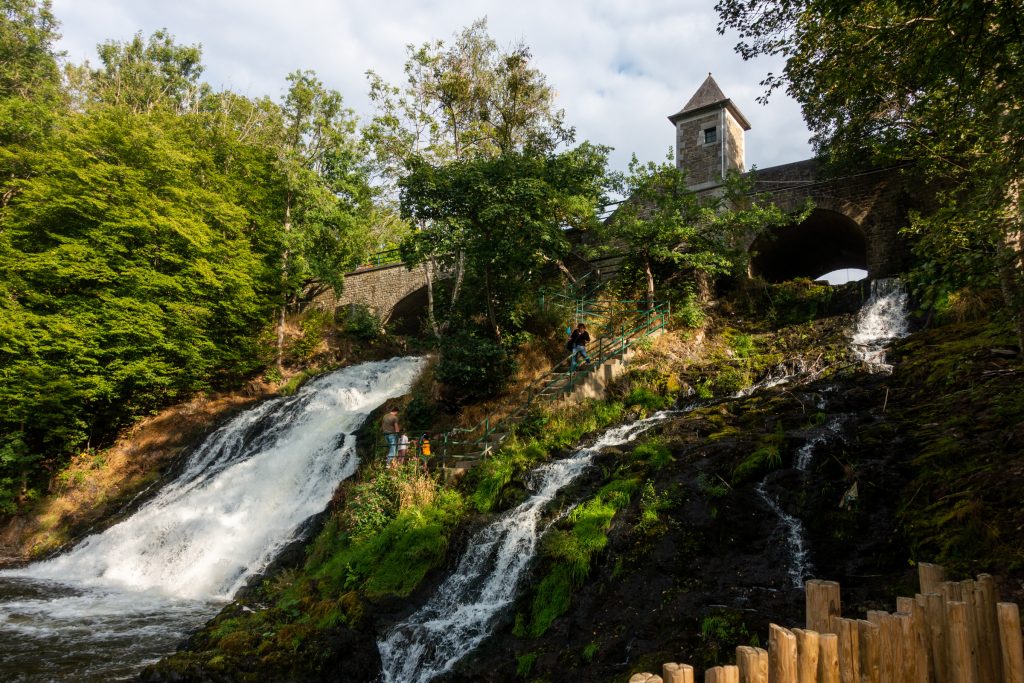 We continued our route to the Coo Waterfalls, the main attraction in a small village full of hotels. After a quick look, we got some gas and did groceries before returning to our apartment because I wanted to cook for the day. I made some rice with sauce and added a nice salad, which we ate again on the lovely balcony with a view over a beautiful garden.
Day 6: Rogery – Petange, Luxembourg
September 2, 25C Sunny – We drove over the border to Luxembourg, where Arek and I had found some places to explore the previous night. We looked at the Vianden castle from a viewing point and visited the Beaufort ruins I had seen decades ago with my family. We also walked to the Gorge de Loupe, a gorgeous nature area where we walked around in the gorge. After a drink at Lac D'Echternach, where we drowned ten wasps in Stefan's iced tea, we went to our next destination, the Schiessentuempel-Wasserfall. The walk was weird because fallen trees covered a part of it, and we had to walk alongside the normal road.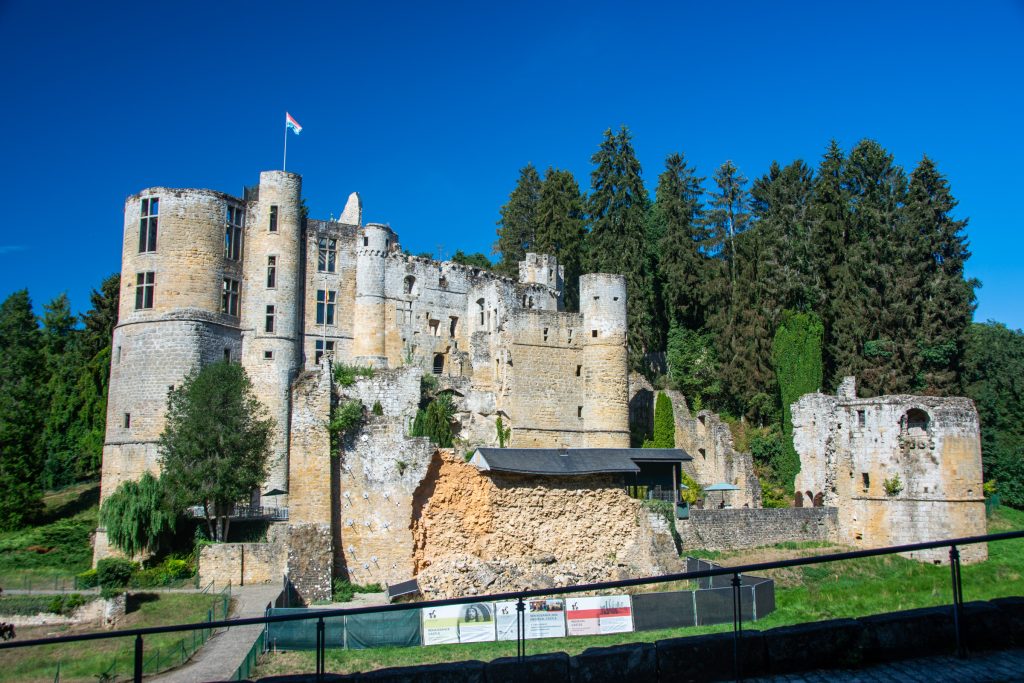 When we were done sightseeing in nature, we arrived at our hotel in Petange, near Luxembourg City, which was also an Italian restaurant. After dropping off our luggage, we went to the city via public transport, which is free in the whole country. After drinking beer at a craft beer pub, we ate expensive food at a market square. We were surprised about the city being extremely modern. I also had WiFi with my work account everywhere in town. I was missing a bit of old-town sentiment, and the locals on the bus back to the hotel agreed to that.
Day 7: Petange – Philippsbourg, France
September 3, 18C Rain – Sadly, we woke up with rain that day. After a good breakfast in the Italian restaurant, we prepared the route for that day first, and it was going to be a long drive into France. Our first stop was the Citadel de RodeMack, a castle we could visit for free in an old French village. After exploring the castle, we walked a bit through town. Our next stop was also a castle, Château de Malbrouck, but this time on a hill. We had to have some drinks there because it was pouring out of the sky during our visit.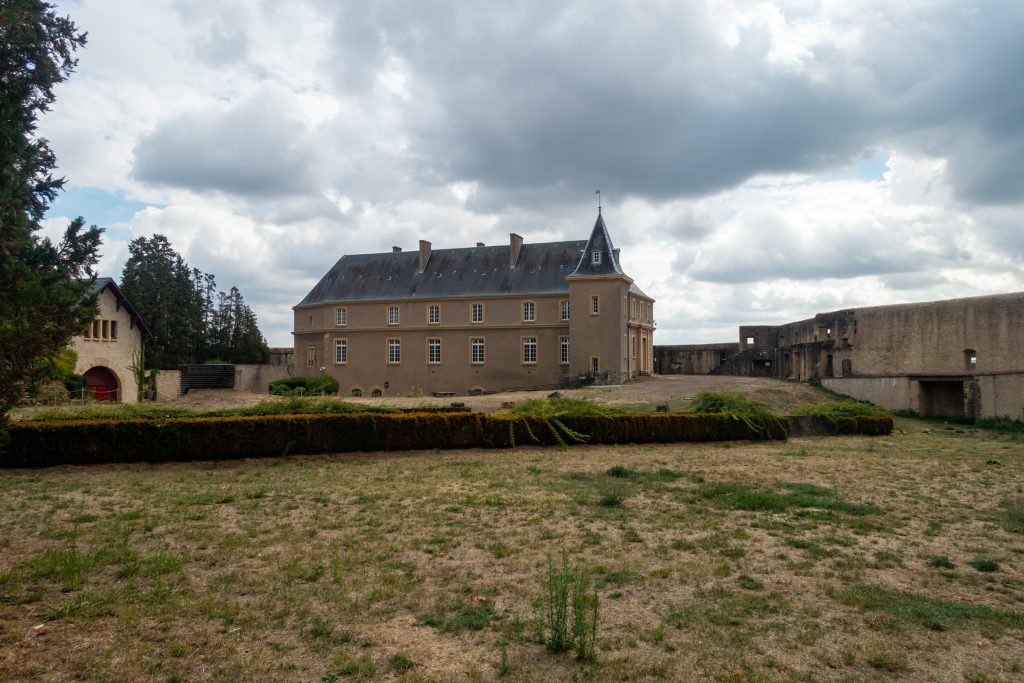 We continued our route through France, but we made a slight detour into Germany again, to have a quick peek at the Saarbrückerr Rathaus, which we saw from the car. When we arrived at our first hotel in France, we could not find the owner. His restaurant was opening in an hour, so we drove to a nearby pub where I fooled around with the locals and drank some beers. Back at the hotel, our hotel owner had finally appeared. After checking in, we went to his restaurant for a pizza. We had to wait quite a long time for it to arrive. In the meantime, Arek and I started to look for our next hotel en route for the next day at the dinner table.
Day 8: Philippsbourg – Mulhouse, France
September 4, 23C Sunny – After a surprisingly good breakfast, we wanted to leave, but we had to arrange a duplicate payment for our rooms first. This hotel had not been kind to us these last 24 hours. Finally, we left for our trip through the Vosges. The first attraction point was close by, a viewing point with a tower. Arek and I climbed the narrow stone tower and enjoyed the stunning panoramic views. Afterwards, we continued our route through beautiful old villages. We stopped from time to time for photos, including a beautiful view over a lake nearby a small arch over the road that was carved out of the rocks.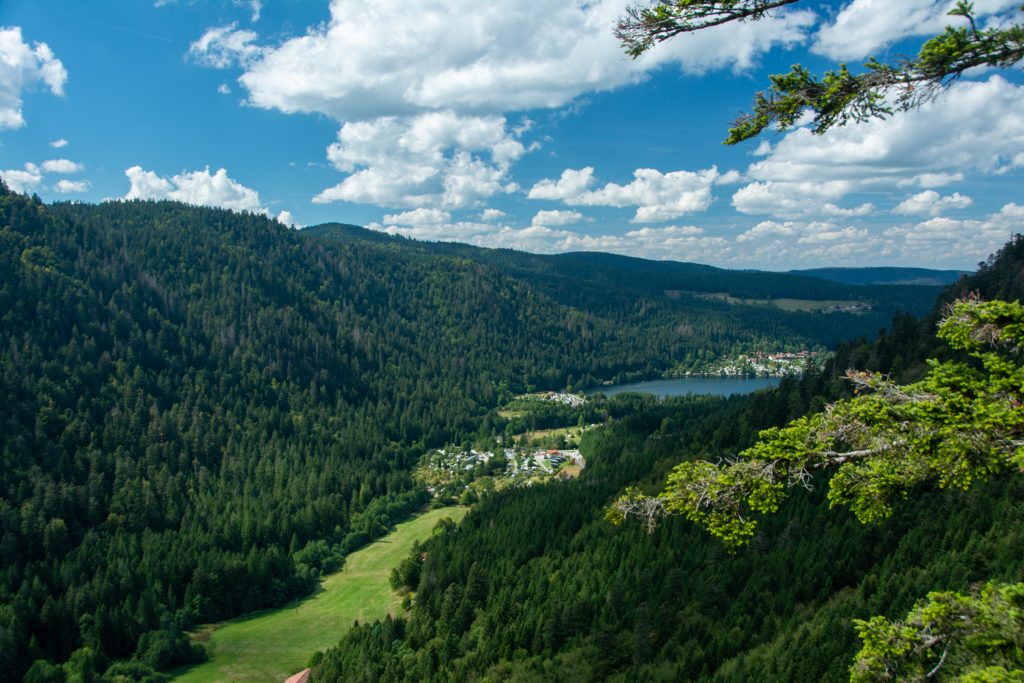 Our next stop was also a nice highlight of the day. We went to Col de la Schlucht, a skiing area in winter, but there are also some attractions in summer. We decided to take the chair lift and descended again by luges. After gazing at the many motorcycles and having a beer at the restaurant at the top, we continued our route to Mulhouse, where our hotel was in an industrial area. After some relaxing in our room, we went in search of a restaurant, which had okay food.
Day 9: Mulhouse – Pontarlier, France
September 5, 29C Sunny – Our first stop was still in Mulhouse, a tower with a view over the city and mountains. Sadly it started to rain, so the dark clouds obscured the view of those mountains. Thankfully it began to clear up pretty fast and even got warm. Our next stop was another fantastic highlight of our trip: Batterie des Roches, an abandoned old fort hidden in the hills. It was in the middle of nature with no entrance fee whatsoever. We even needed flashlights from our phones to see some indoor locations. After a pleasant stroll through the buildings, we continued our route by car to drive through a gorgeous valley alongside the river La Loue. It took some time, but we found an excellent viewing point over the valley, called the Roche de Hautepierre, after driving through the narrow streets of a village and a short walk to the top where a cross was. On our route back, we took some shots from other viewing points over the valley.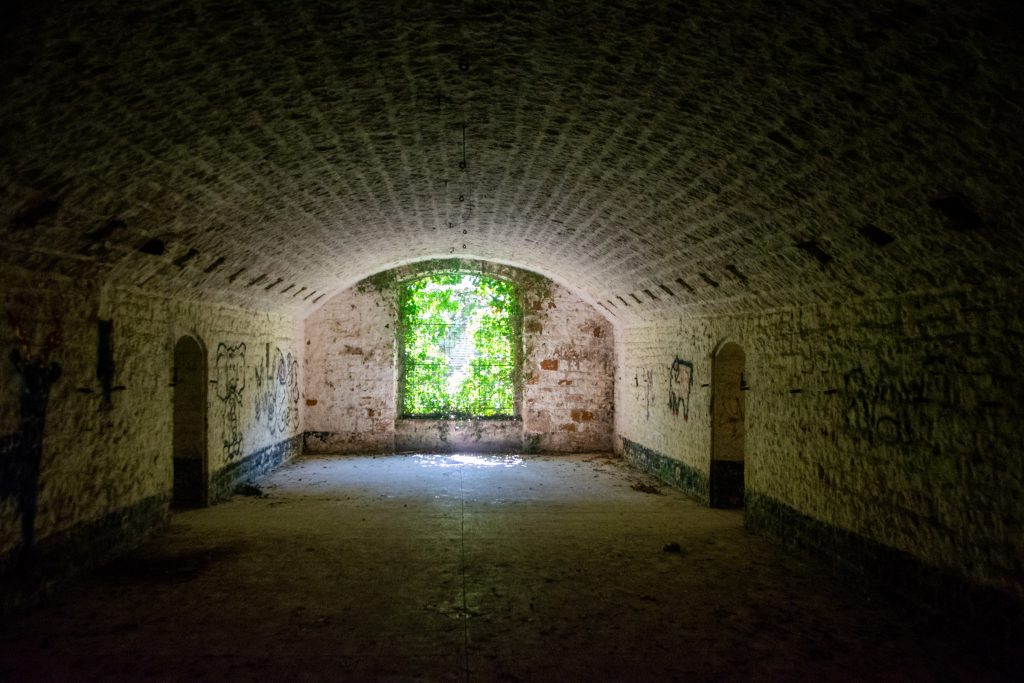 Our hotel in Pontarlier was in another industrial area, which would become a tradition, but with more bars and restaurants open in the area. We drank craft beer at a place that was half a liquor store and half a bar. We went to a nearby restaurant at a bowling alley for some food and returned to our hotel to plan the route for the next day.
Day 10: Pontarlier – Annecy, France
September 6, 21C Sun and rain – After finding some cheap gas, we started our trip for the day. Our first viewing point was of a fort and castle visible up in the mountains that we saw alongside the road. We started our detour into Switzerland afterwards. Our first stop was one of the highlights for me during this vacation: the Vallorbe Caves. We could walk a path through the caves with stunning views over stalactites and stalagmites and with water raging through these caves. We finished our stay in Switzerland by having some drinks near Lac de Joux, where we could also discuss the general idea of locations we want to visit in the next week. We continued driving back to France over local roads, where we only stopped at some places for views.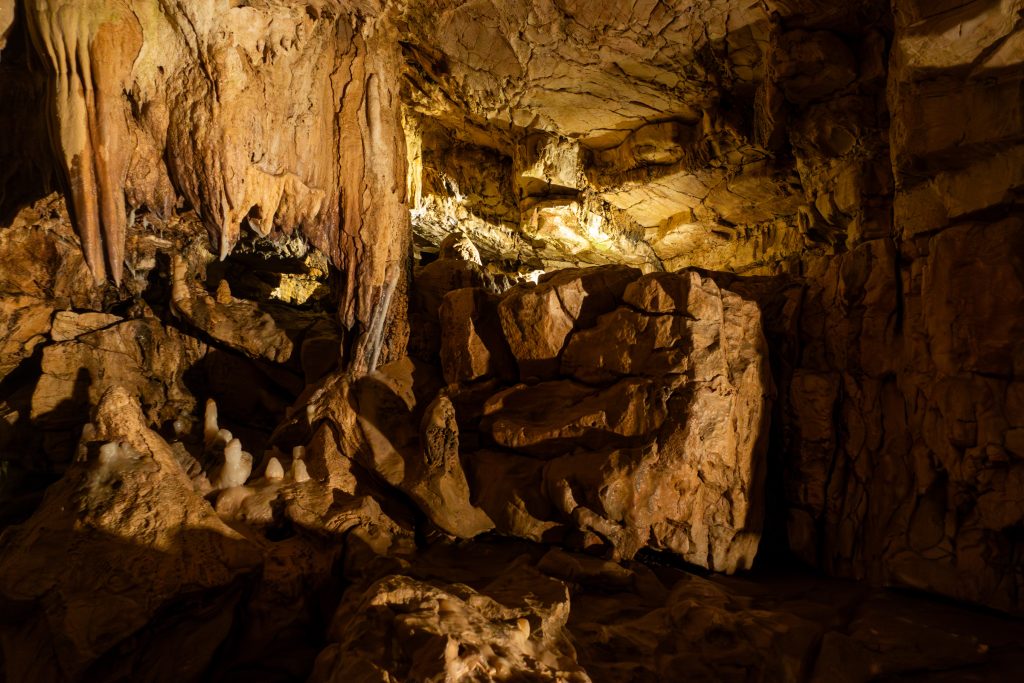 When we arrived in Annecy, I had to fix a small miscommunication problem with our rooms in a cheap hotel. After getting a new room, we drove alongside Lake Annecy to have dinner with Stefan's mother and friend, who were at the campground near the lake.
Day 11: Annecy – Mâcon, France
September 7, 26C Sunny – After some cheap breakfast, we left our tiny room, and it was time for us to drive from the east to the west side of France, which would take us a couple of days. Our first stop was a small creek near Chambery, where Arek could collect some rocks for his collection, and we continued our drive alongside Lac du Bourg for some other stops. After a view of a castle, some views over some random hills, and another random lake where locals enjoyed themselves and people who parked their campers there for quietness, we sadly left the Alps. We found ourselves in a more industrialized flat area of France.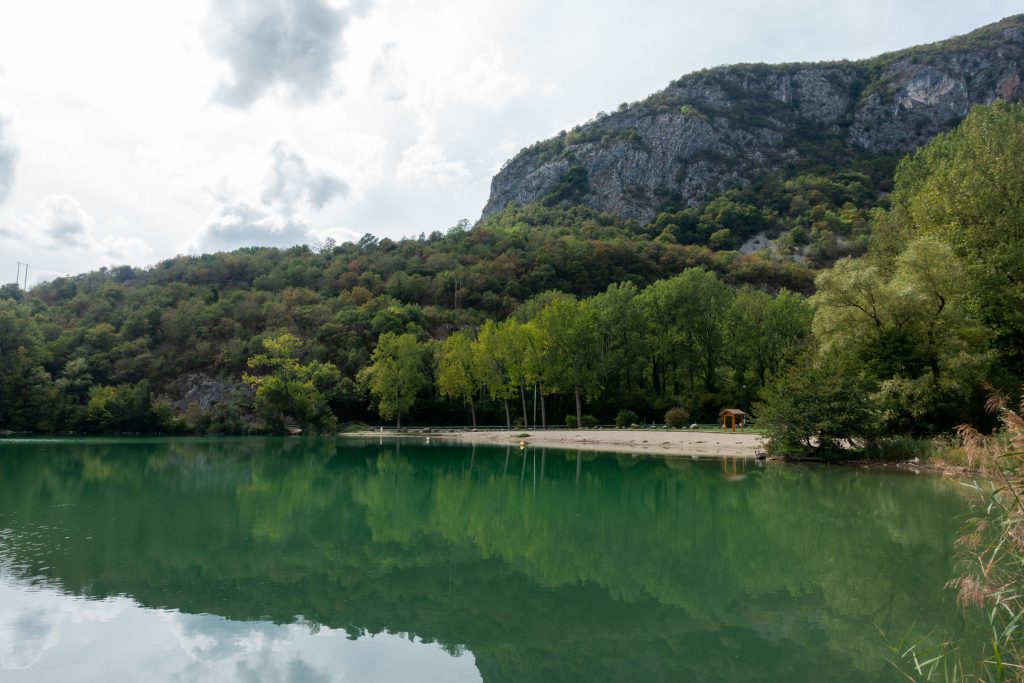 We were too early to check into our hotel, so we found another beer store with a bar where we spent some time. After checking in, we went to Buffalo Grill, which I knew from signs near the highway but had yet to visit. Our experience could have been more friendly, where it even looked like we were assigned seats with other foreigners, just to be separated from the French customers. Back in the hotel we planned our route to Rennes for the next two days.
Day 12: Mâcon – Tours, France
September 8, 22C Sun with clouds – We continued driving from the day from the western to the eastern parts of France. Our first stop was Cluny Abbey, famous for its approach to doing things in the middle ages. We drove to Le Loire River for some pictures, where I took over the driving from Stefan. We visited Chateau de Sagonne, a lovely castle with a moat and other medieval buildings. During our next castle stop, Chateau du Biet, I desperately tried to buy Rammstein tickets with horrible cell phone service. After getting some drinks at the pond of Mareuil-sur-Arnon in a bar with locals drinking and smoking inside, Stefan took over the wheel again. The land was like a flat no man's land with lots of agriculture. After arriving at another terrible hotel where we got a code instead of a key, we went to a nice Italian restaurant. When we returned to our rooms, we left the doors open for fresh air while we planned our route.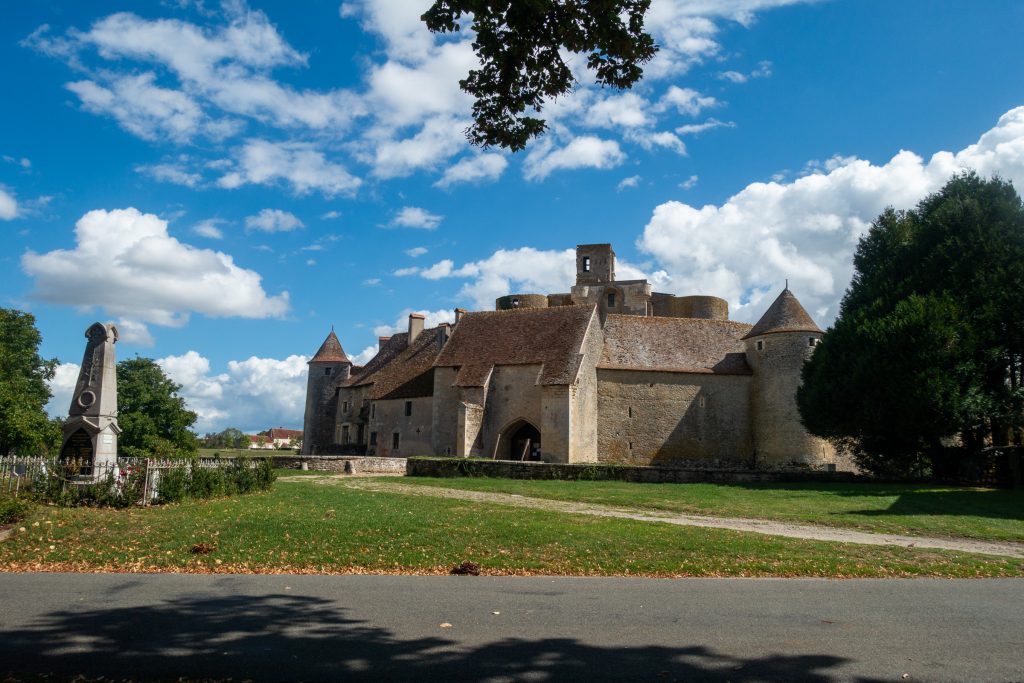 Day 13: Tours – Chantepie, France
September 9, 20C Sun with clouds – After a terrible breakfast, we left Tours for our first attraction, the Grand Moulin de Ballan, an old water mill standing in the water. We also drove to some petrified caves, but they did not look attractive enough for a visit. Our next stop was Villandry Castle, where many Brits were visiting. Queen Elizabeth had just passed away and apparently visited the castle in the past once. We walked a bit in the village before driving to our next stop, another castle in the town of Langeais, where we also had some drinks and fries. We went on for a long while afterwards until we stopped at a small lake for a stroll near Chateau-Gontier. We ended our day at Chantepie, where we checked into our hotel, drank beers and went to a restaurant nearby for food.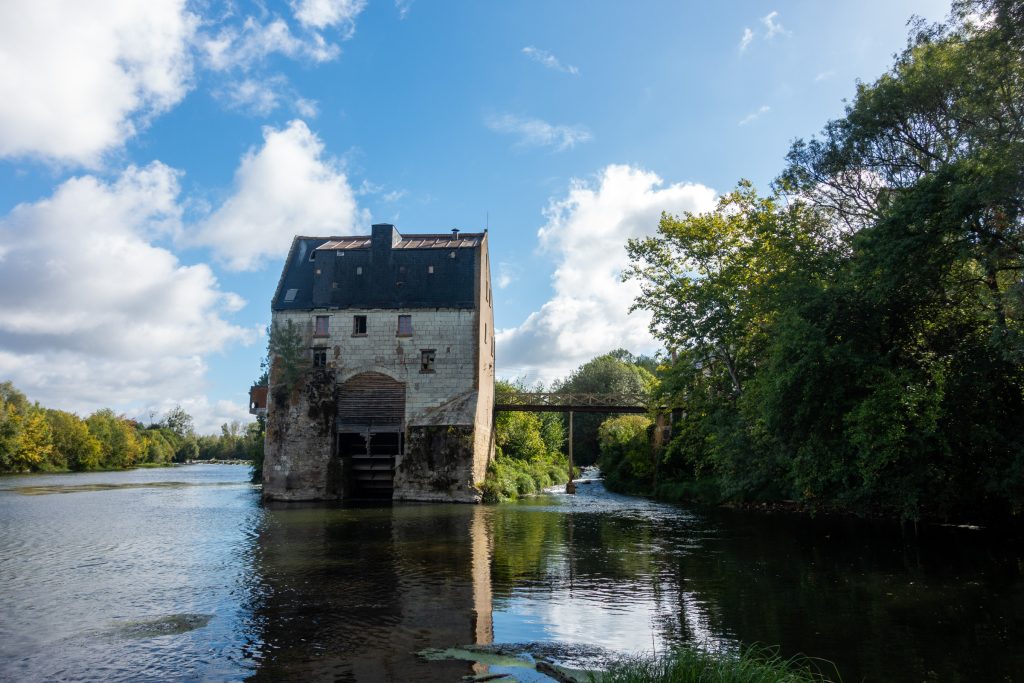 Day 14: Chantepie – Saint Brieuc, France
September 10, 20C Sun with clouds – It was time to explore Bretagne after a decent breakfast. After seeing a church in a town, we drove to have some drinks at Chateau de la Bretesche, a castle looking out over a small pond. Seeing that Stefan's iced tea was more expensive than my small beer was pretty funny. The next attraction on our route was a massive hanging bridge over a valley with a river. We spent some time there by walking over it to the other site.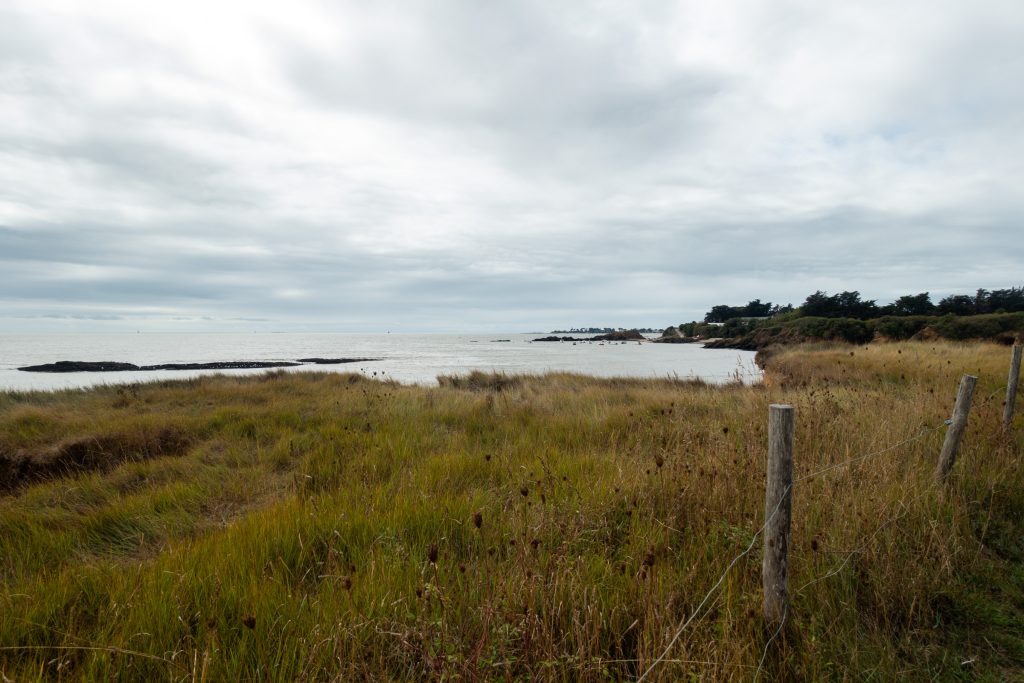 We continued our drive to the south coast of Bretagne for a walk on the coastline over the beach. Sadly the last stop was a castle we could not visit because it was apparently private property. We arrived at our hotel in the B & B franchise, which was worse than the previous one we had slept in. We walked through the industrial area to another V and B place for craft beer. Afterwards we went to another L'arte restaurant for Italian food, which were all franchises we had visited before.
Day 15: Saint Brieuc – Granville, France
September 11, 26C Sunny – Today would be one of the highlights of our trip, but before we went to it, we first made a small stop at one of the bays on the northern coast of Bretagne, where we did a small walk. The bay looked almost like a lake, but then with salt water. Our next stop was a cathedral in Dol-de-Bretagne, which had gorgeous colored windows, but afterwards it was time to visit the highlight: Mont St. Michel. If you do not recognize it from the picture, it is a tidal island (you can walk to it during low tide) with an abbey. Nowadays there is a bridge in place, making it possible to walk to and from the island at every time of the day. It is quite a touristy place with ramparts, gift shops, bars, restaurants, and many people. We, of course, went for a beer first and then spent a couple of hours walking the public areas. We did not visit the abbey itself.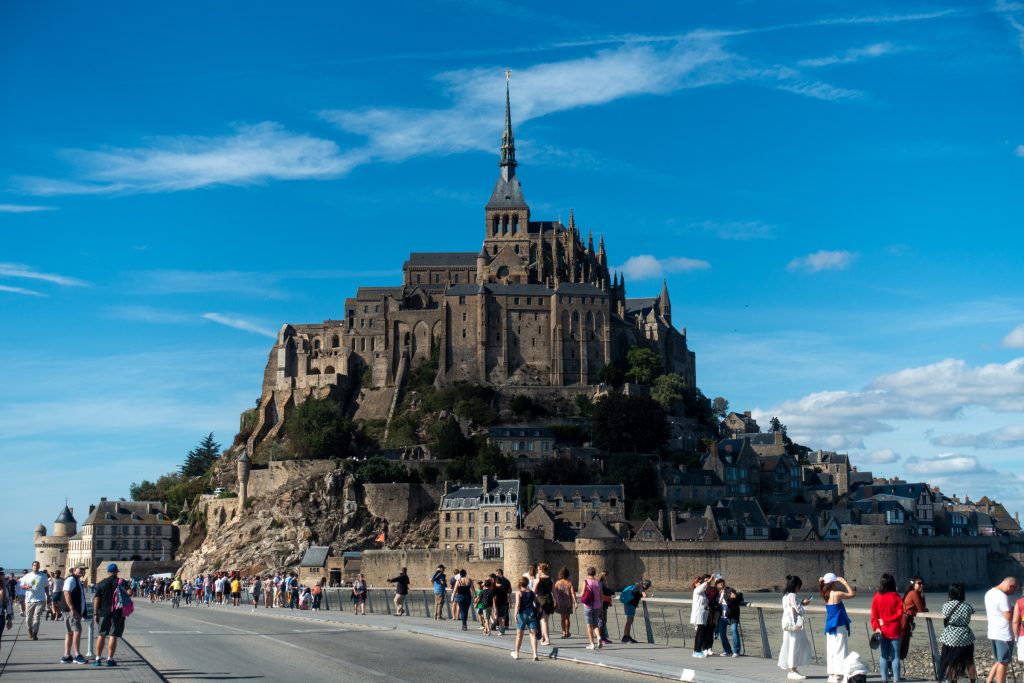 After the long walk back to our car, we drove to our Ibis hotel in Granville. It was situated in the harbor, so we could drink some beers at the hotel while looking out over the harbor. We walked around the town center for a bit to find a place to eat, but we ended up at one back in the port near our hotel.
Day 16: Granville – Caen, France
September 12, 28C Sunny – After finishing our breakfast in a room with many older people, we left Granville. Our first sight-seeing was Chateau de Gratot, a random castle we found on route. Our next castle was Chateau de Pirou, which unfortunately was not open that day. Afterwards, it was time for us to visit the coast of Normandy to see all the sites related to World War II. The first one we visited was Batterie de Maisy, which consisted of the remains of many bunkers and trenches. Our next stop was Omaha Beach, which was underwhelming for me since it had just become a beach, and all the signs of such an important historical event had disappeared. The USA cemetery, on the other hand, was quite impressive. On the field there were white crosses as far as you can see. Some of them were a Star of David instead of a cross, and others did not even have the soldier's name on them. While we were visiting the site, we saw, not to our surprise, many Americans as well. The last stop was Normandy Beach. It was hard to find where the official site was, but when we found it, we had a nice view over the cliffs with the beach below. There were some items from the war to be seen, but sadly we did not have time to see them anymore. We drove to our hotel near Caen, where we had a quick beer in the hotel before going for dinner in a restaurant around the corner.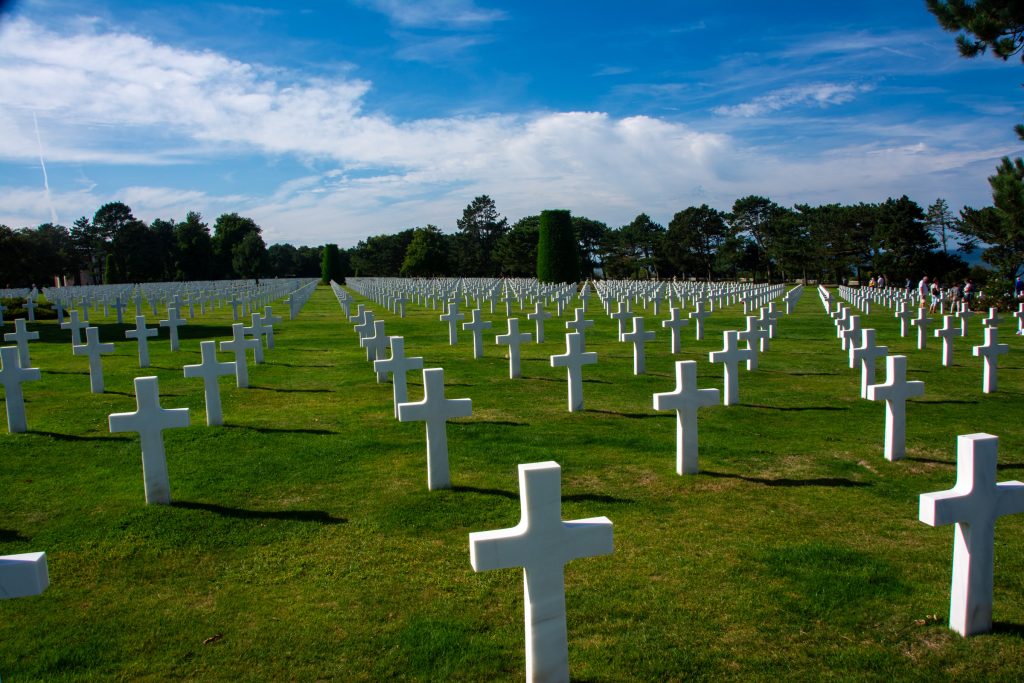 Day 17: Caen – Dieppe, France
September 13, 22C Cloudy and showers – During this cloudy and rainy day, we continued our trip back north. The first stop was a forest area with a view over the Seine River. Our second one was hopefully a place for us to walk. Sadly this was not possible because the area was closed off. We could shoot pictures of the surroundings, including horses and donkeys in the field. Our last stop was Pont de Brotonne, a large hanging bridge. We tried to find a cave there because it was Cave Tuesday, but Google deceived us. The bridge itself was pretty impressive. We arrived early at the hotel for a change. We got some snacks and beers from Aldi and relaxed in the afternoon without WiFi in the hotel room before finding a restaurant to eat, which was a brewery with unfortunately some bland beers.
Day 18: Dieppe – Calais, France
September 14, 16C Rainy – We set our course for the day to Calais along the coast of France. Sadly a bit foggy. Our first stop was the coast at Berck, where we, unfortunately, did not have any views because of the fog, but seals were lying on the sandbank we could enjoy. Our next stop was Chateau d'Hardelot, which looked too new. We continued to drive along the coast and saw all kinds of lookout points, mainly in the rain, including a Fort Mahon in the water. Two highlights of those points were Cap Gris-Nez and Cap Blanc-Nez, the closest points to England, from which you could see the British Coastline very well.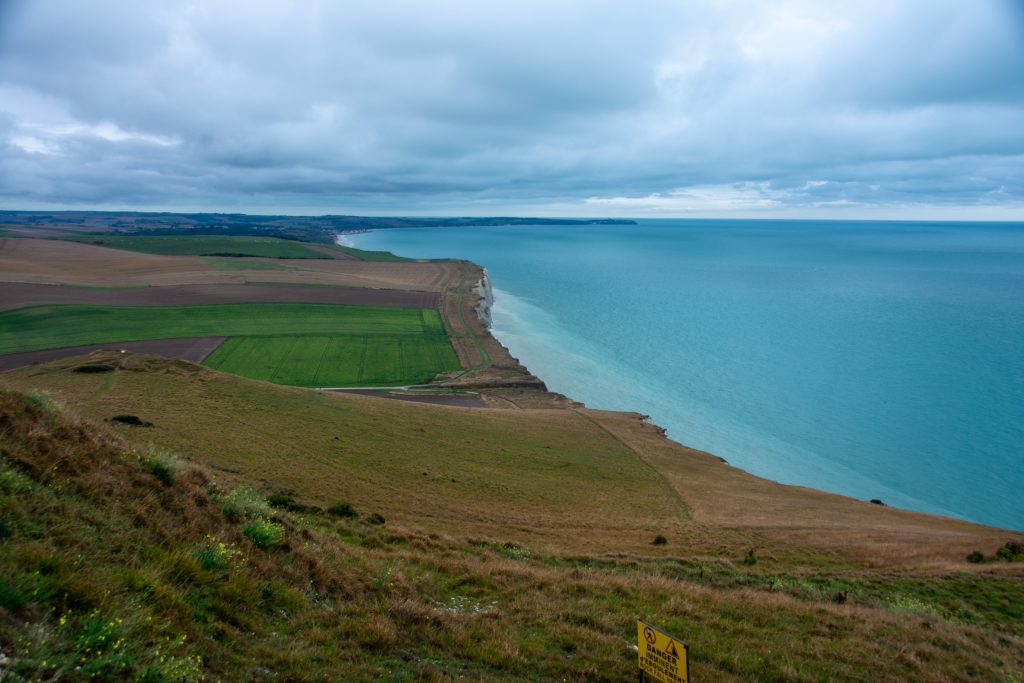 When we arrived at our hotel near Calais, we discovered that we had separate rooms instead of one. We first drank some beers at a bar in a nearby mall before eating in the restaurant next to the hotel because we had a discount there.
Day 19: Calais – Bruges, Belgium
September 15, 18C Cloudy – We had decided to have an early breakfast so that we could leave early. It was finally time for us to leave France. Our first stop was supposed to be a lookout over Dunkirk, but apparently it was apparently some kind of attraction, which was meant for children. We continued our route to West-Vleteren. Arek had never seen the famous abbey before, so we had some lovely beers, and we bought some to take with us home, and bought some other merchandise.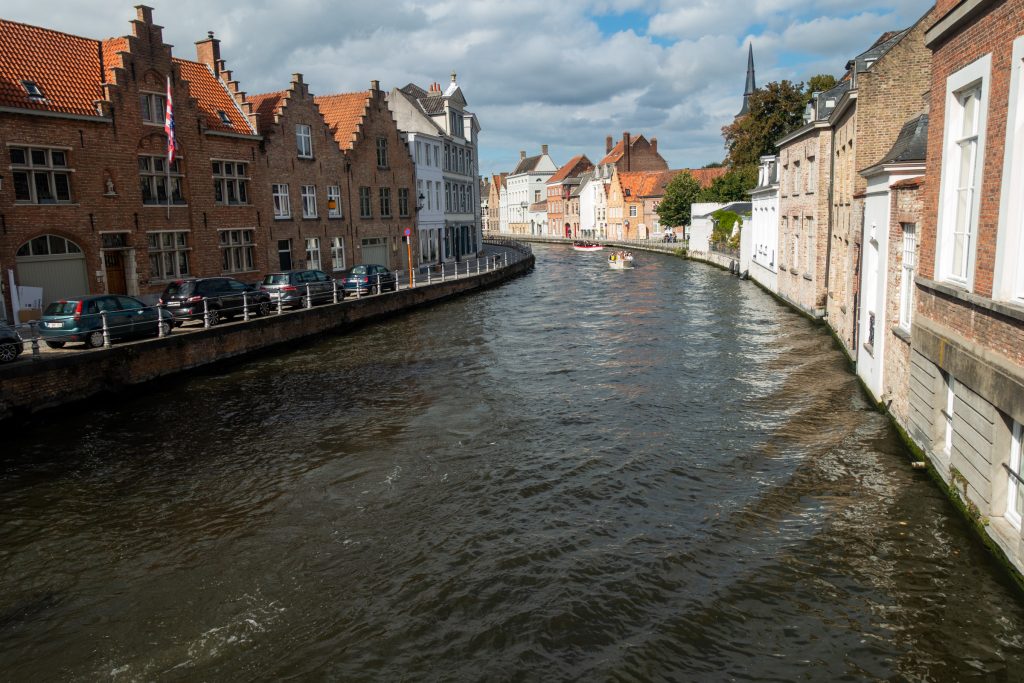 Our destination for today was Bruges. Stefan and I had been there in June, but we wanted to show Arek the gorgeous town as well. We arrived at a P+R place, but unfortunately it was full, so we drove to the hotel first, to drop our luggage and Arek, and Stefan and I continued to another P+R on the other side of town, which luckily had only one spot left. Stefan and I walked to the main market to wait for Arek, while drinking Duvel beers at the Duvelorium. When we were reunited with Arek, we walked through town, and had some beers at the Halve Maan. Instead of eating expensively and unhealthy on the market square, we decided to go to a nice Thai restaurant instead for some great food and tea. We ended up in the iconic Garre bar, which was recommended to me in Poland a couple of months before. It was a lovely bar that blended the tourists with the locals very well. We had some great beers with classical music to end our day.
Day 20: Bruges – Roosendaal, The Netherlands
September 16, 12C Rain – Stefan collected his car while Arek and I brought our luggage outside the hotel. It was time for us to head back to The Netherlands. We entered The Netherlands in the Zeeland province. It is a place where I had not been in decades. We first visited Neetlje Jans to see the Delta Works before continuing our route to Roosendaal. After checking in at our hotel, we walked to our friends Ad and Marianne's place. Ad greeted us, and we drank some lovely beers while sitting at his homemade bar in his living room. When Marianne arrived, we took a taxi to Het Hooihuis for a lovely dinner and chats before returning to our hotel.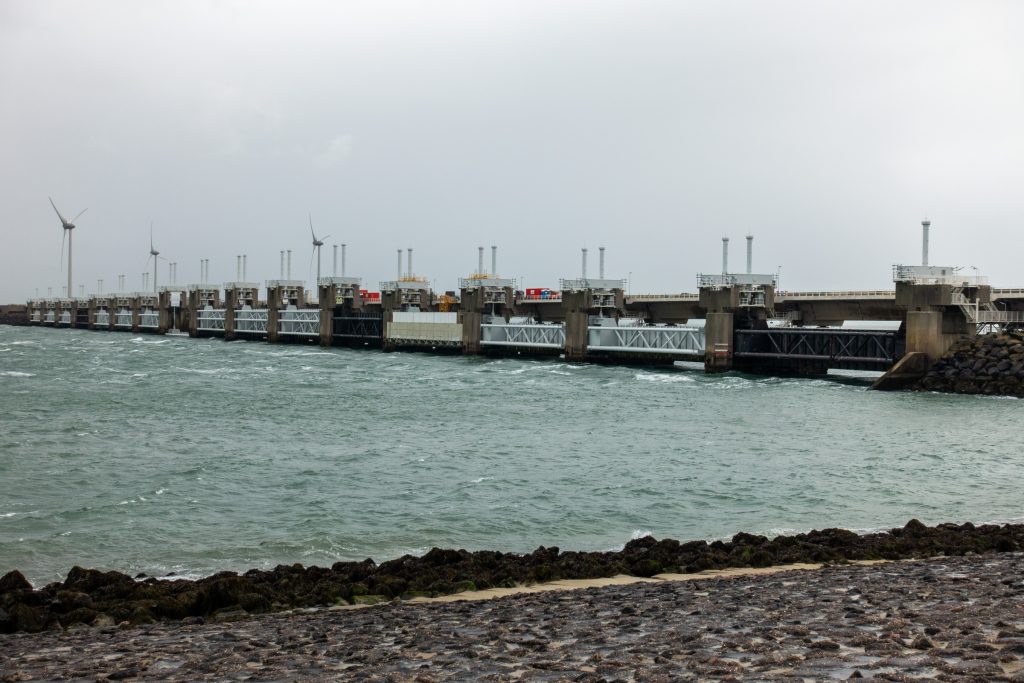 Day 21: Roosendaal – Groningen, The Netherlands
September 17, 16C Cloudy – Today was a traveling day. Stefan took the highway to Eindhoven airport, where we said our goodbyes to Arek at the same place where we met Arek three weeks before. Stefan continued afterwards and dropped me off at the train station of Eindhoven, from which I took the train back home. After arriving and greeting my cats, I had a quick dinner before leaving my house again for my bar shift in Club VERA, a great way to end a unique vacation of me visiting places I know very well and others I had never been to before.