Below a small report of my latest vacation to Brasil. Me and my brother went there for a week to visit our other brother.
Day 1
 This was a travel day. We arrived at  Belem a city in the North of Brasil very late.  My oldest brother Bert picked us up at the airport.  And we drank a beer before we went to bed.
Day 2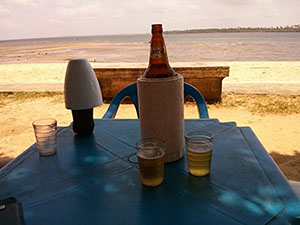 Bert still had to work that day.  So me and my other brother Erik-Jan could relax a bit in the apartment.  At lunch Bert came by.  After lunch we accompanied Bert to his work where we met his  boss and his coworkers. We let Bert work and went for a walk in the National forest next to office.  We had a nice walk.  We saw lot of forest lakes and even wildlife!  Bert's wife and daughter were also there when we got back.  When my brother was done with his work we went to a nice place at the river for some ice cream. Back at the apartment we had a nice dinner.
Day 3
 This was my brothers day off.  We got in the car and tried to drive out Belem.  Which was hard because of extremely bad traffic which is common in that city.  When we finally left Belem we drove to an island over a bridge.  There we had a nice lunch at a restaurant.  After lunch we strolled along the river beach before we went back to the main land. Back in Belem we went for a beer in one of Bert's favourite bars. Before a relaxing evening at the apartment.
Day 4
 Today we left very early to leave for the forest. We picked up a coworker of Bert named Frank and went for a long drive to Cameta. It was quite an interesting trip through the inlands.  Next to driving by car we sometimes had to take a ferry. Ending the trip with a 2 hour ferry to our final destination.  After lunch and some rest at the hotel. We went for some pizza with Frank. Sadly they ran out of beer.  During dinner we saw soccer on tv. Back at the hotel we finished watching the game with a bottle of Skol bought at the shop next door.
Day 5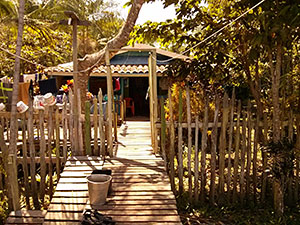 This  was a special day where Frank brought Bert and us to one of the local farmer he has trained to use the forest to grow nuts and fruits. The farmer can sell that off on the local market. We picked up Frank at his house where we ate breakfast that his wife had prepared for us. After this wonderful breakfast he and his wife showed us their land that he and his family has cultivated with keeping most of the forest intact. After the tour and meeting his in-law family we went to our next appointment. After a nice drive through the back lands of Brasil which was unpaved with a lot of holes we arrived at our destination. The son of the farmer was waiting for us over there in a boat. He took us to the house on poles at the riverside. After a glass of the best pineappel juice I ever had in my life, it was time to pick the main course of our lunch: fish from their artificial pond where they are breeding their fish.  Afterwards he took us on a tour over his lands. We saw a lot of similarities that I saw over on Frank's land.
After the tour we had to wait for our lunch to be finished. We did that on his private beach. Sadly as a foreigner it is not safe for me to swim in fresh water. But Bert and Frank had no problems what so ever to finish their conversation about work in the warm water. Then it was time to eat the lunch they prepared for us. It was for us Europeans quite a challenging lunch: their main dish a is acai berry juice they eat cold with sugar or some kind of flour. Which to me and Erik-Jan just tasted horrible. The rest of the dishes consisted of salad, rice, fish and crocodile. And the legends are true: crocodile tastes like fish. After lunch, we relaxed a bit, drank some very sweet coffee and returned back by boat and car to Frank's place for some fresh juice.
Back at the hotel we went back to the pizza place, and see if they had beer now. Well they had! It was not cooled though..
Day 6
 It was time to go back to Belem. So this was the same as day 4, only the other way around.
Day 7
This day was time for some sight seeing in the town it self. We went to the river, where we looked around at a local market, including a very smelly indoor fish market and visited a small fort. After a beer, we went back to the apartment to skype home and some relaxation. After dinner we went to the bar around the corner of the apartment building. There we had a bucket of ice that had 5 cans of beer in it. We were sitting on plastic chairs and table on the street. We were quite happy with the car that was parked in front of us as a buffer for incoming traffic. We enjoyed ourselves very much by looking at the dancing people and enjoying the band playing samba. They were getting more off tune as the evening progresses.
Day 8
 This was the last day in Belem for me and my brother. It started by strolling through the local park and try to do some souvenir shopping. All the other days were quite hot. But this day was the hottest of them all. We cooled of a bit with a ice cold beer watching a local band playing some music. After some lunch and relaxing at the apartment we went for dinner at the boulevard of Belem. This boulevard was quite a walk but worth it. This boulevard is only a couple of years old. And when it got dark people came out of from everywhere, drinking, skating, kissing etc. It was quite fun to see them enjoying themselves.
Day 9
 At 4 am, we had to leave for our long journey back home.