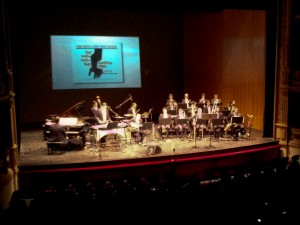 A new post on my weblog. That can only mean one thing: I am on holiday. This time it is my second visit to the film music festival Fimucite on Tenerife. Two years ago it was such an awesome experience, it was time to do it again. Like two years ago I am travelling again with Ad representing http://www.streamingsoundtracks.com.
Our first concert was a tribute to Elmer Bernstein performed by the local big band. Elmer has written quite some jazzy scores in his early years. Some of those scores were especially arranged for this big band headed by the saxophone player Kike Perdomo. Lot of classics were played like 'The Man with the Golden Arm', 'Johnny Staccato', 'The Age of Innocence' and 'The Magnificent Seven'. Vocals for 'The Silencers' was done by Esther Ovejero. The flute solo's in for example 'Ghostbusters' were done by Sara Andon. The big band ended the evening with 'Walk on the Wild Side' where most of the performers doing their wild solos.
It was the first time for me to hear a big band perform. I do not know much about Bernstein's music. I only recognized 'Ghostbusters' but it was a nice wild ride! The band fooled with the audience and you could see they were really enjoying themselves and the audience loved it too. According to Ad the pieces were nice adaptations of the originals.
If you are curious about this music. Varese Sarabande is planning to release these big band arrangements on CD!